Who say's you can't have an outdoorsey wedding in the colder UK months? With the right planning, a tipi can offer, a truely magical celebration space for your winter wedding day. As the seasons are slowly changing from Winter to Spring, we are SUPER excited to share this senstational editorial shoot to satisfy your cosy boho wedding cravings on The Boho Bride Guide blog. So grab a cuppa, get comfy and let's get you inspired!
Bryony from Bobbi Wren Events takes us through her inspiration for styling for this shoot, and what her fabulous Midlands, UK based wedding supplier team created.
The Inspiration
Bringing cosy winter vibes to a tipi wedding celebration and celebrant led, outdoor ceremony, to show you that whatever the weather, a tipi wedding celebration, can be as magical as ever come rain or shine!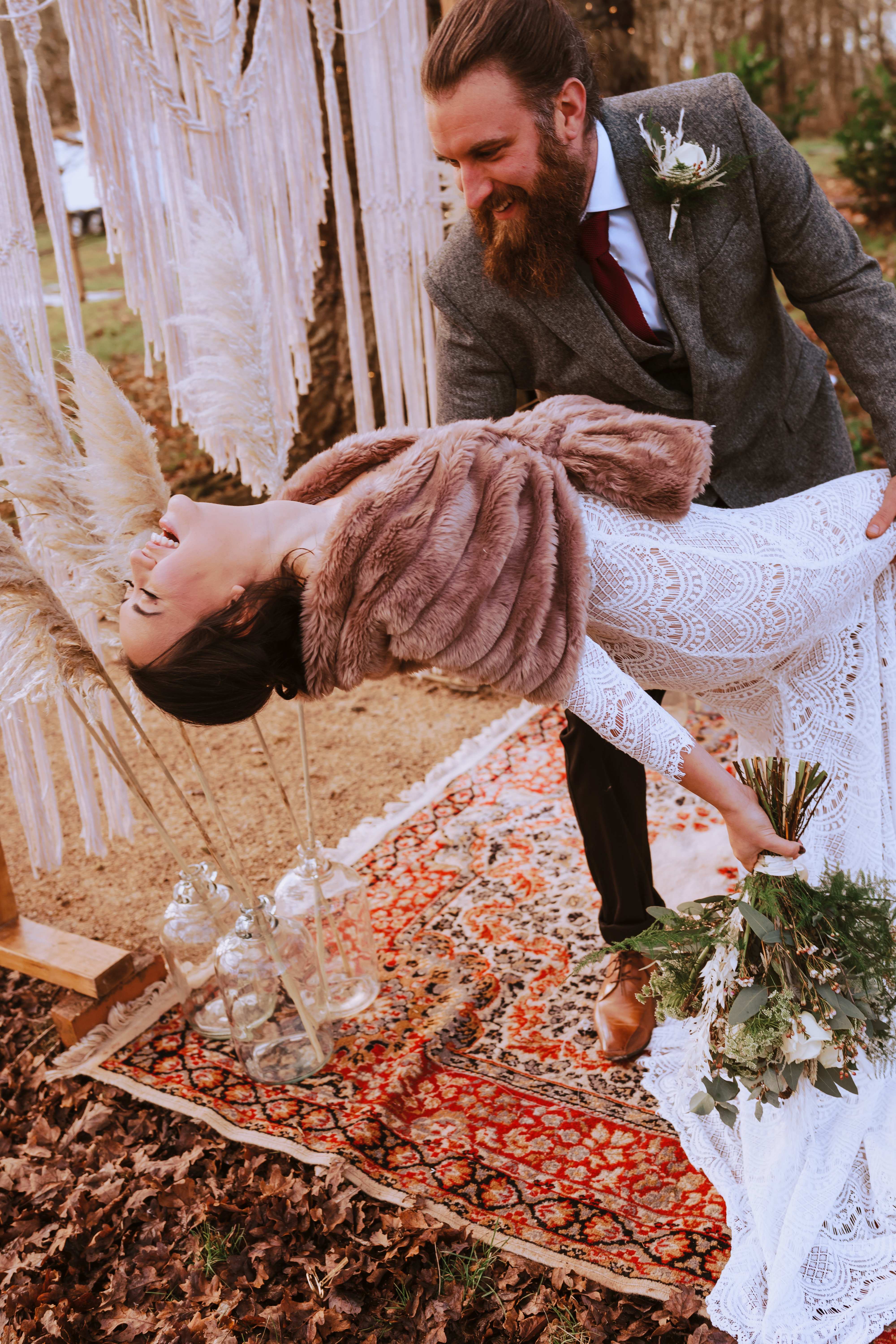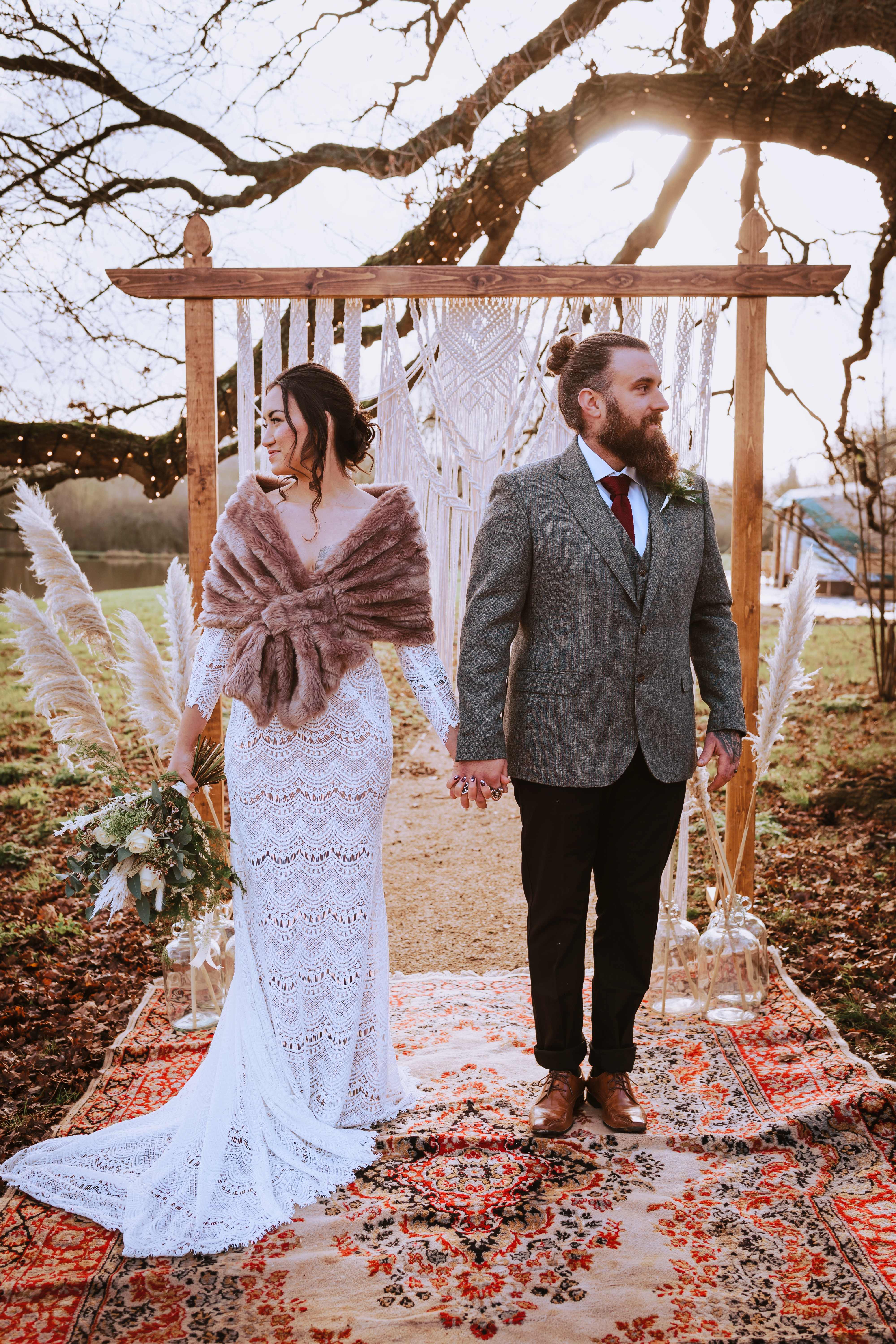 Elmbridge Farm in Worcestershire, is home to a stunning four-top tipi that is sat on a raised grass terrace overlooking spectacular grounds and their tranquil lake. The celebration can host up to 150 guests in warmer months, but can also be utilised into indoor chill-out areas where your guests can socialise in comfot throughout your day.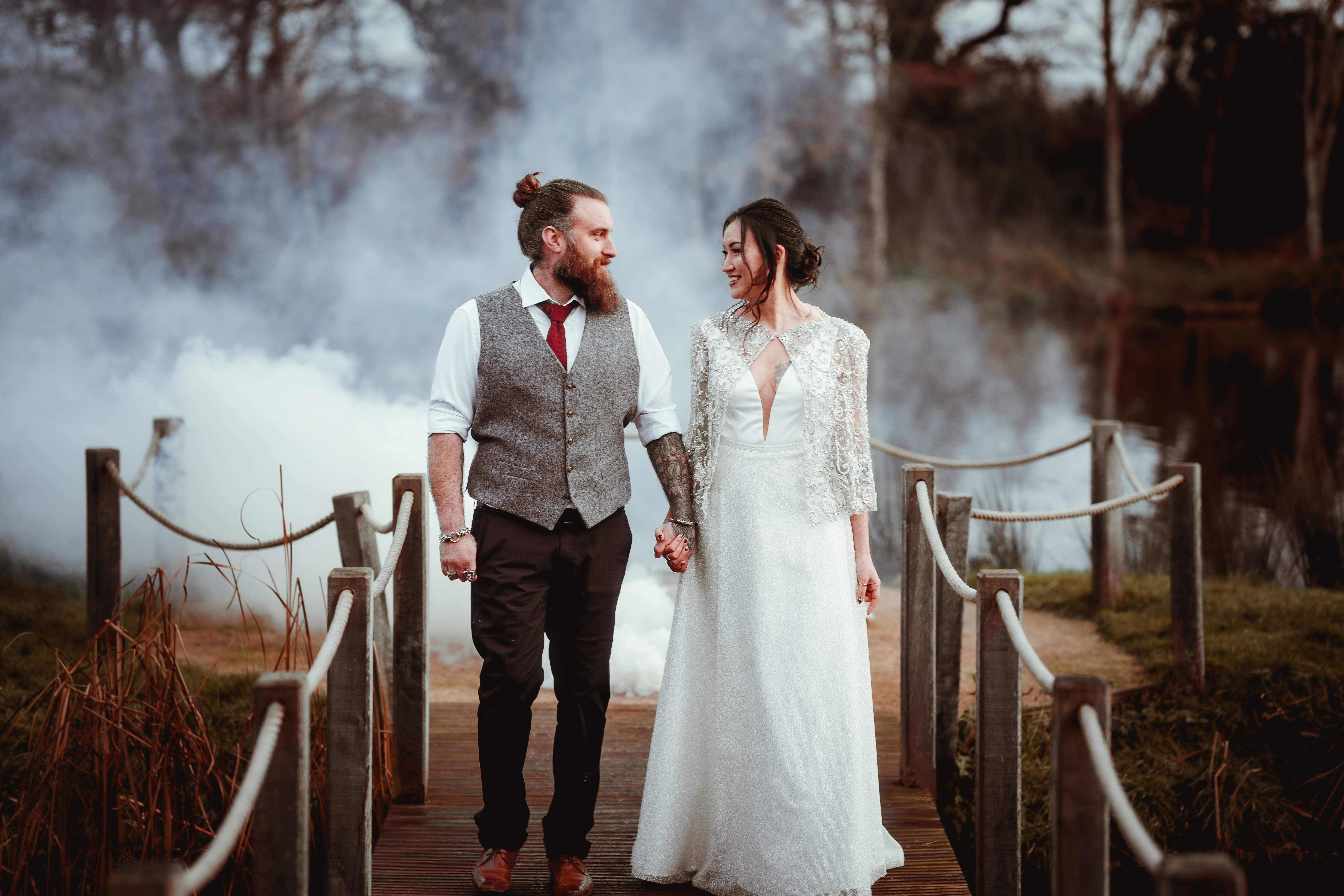 .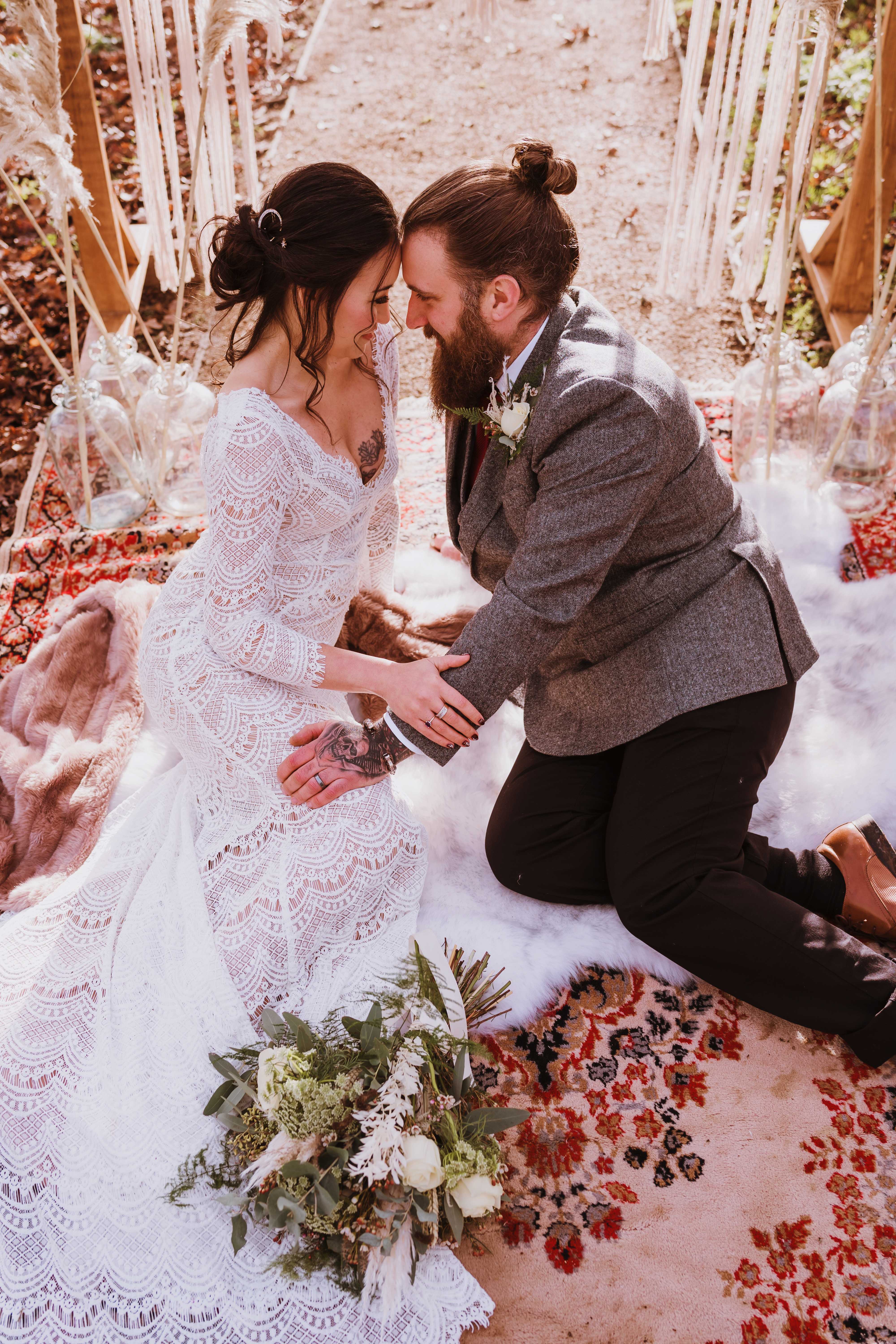 .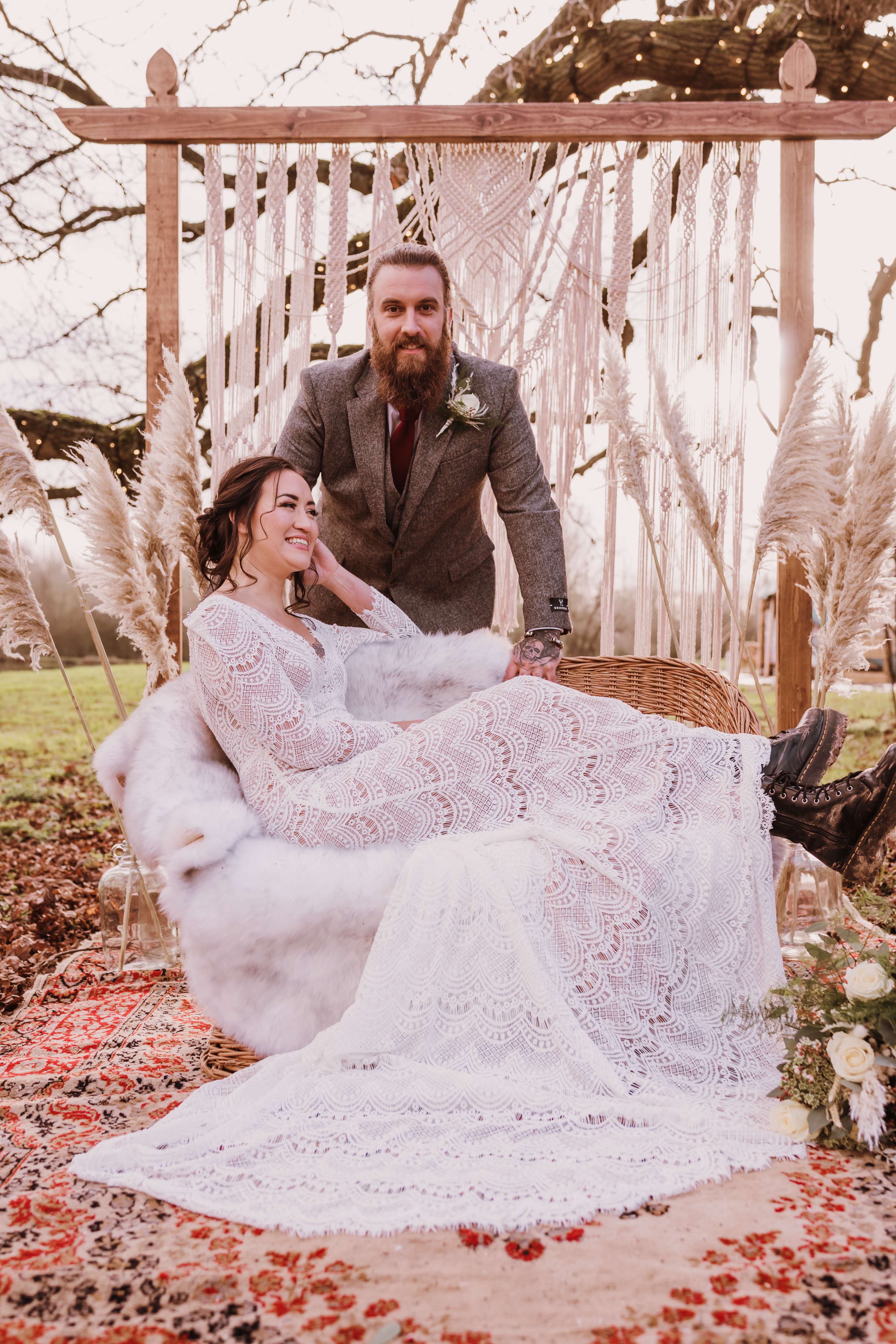 .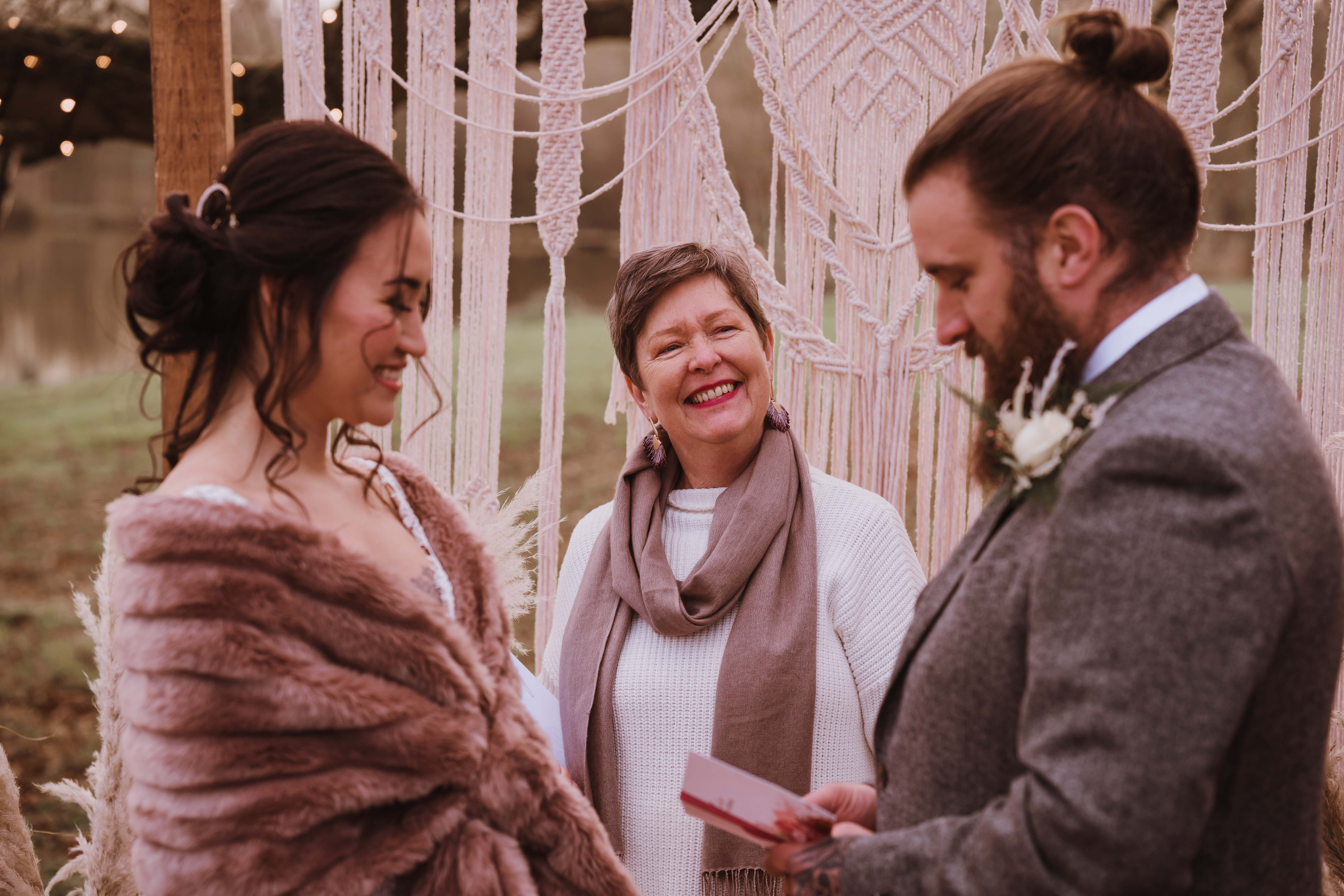 The Outdoor Ceremony with Macrame Backdrop
A dreamy macrame backdrop framed the magical celebrant led ceremony by our very own approved supplier Sharon Gordon from Wild at Heart Ceremonies, Whilst overlooking the picturesque lake and grounds, models Vicki and Matt took the opportunity to write their own vows with the help of Sharon. Sharon also conducted and created a personalised vow renewal for the couple after 11 years being together. So beautiful.
.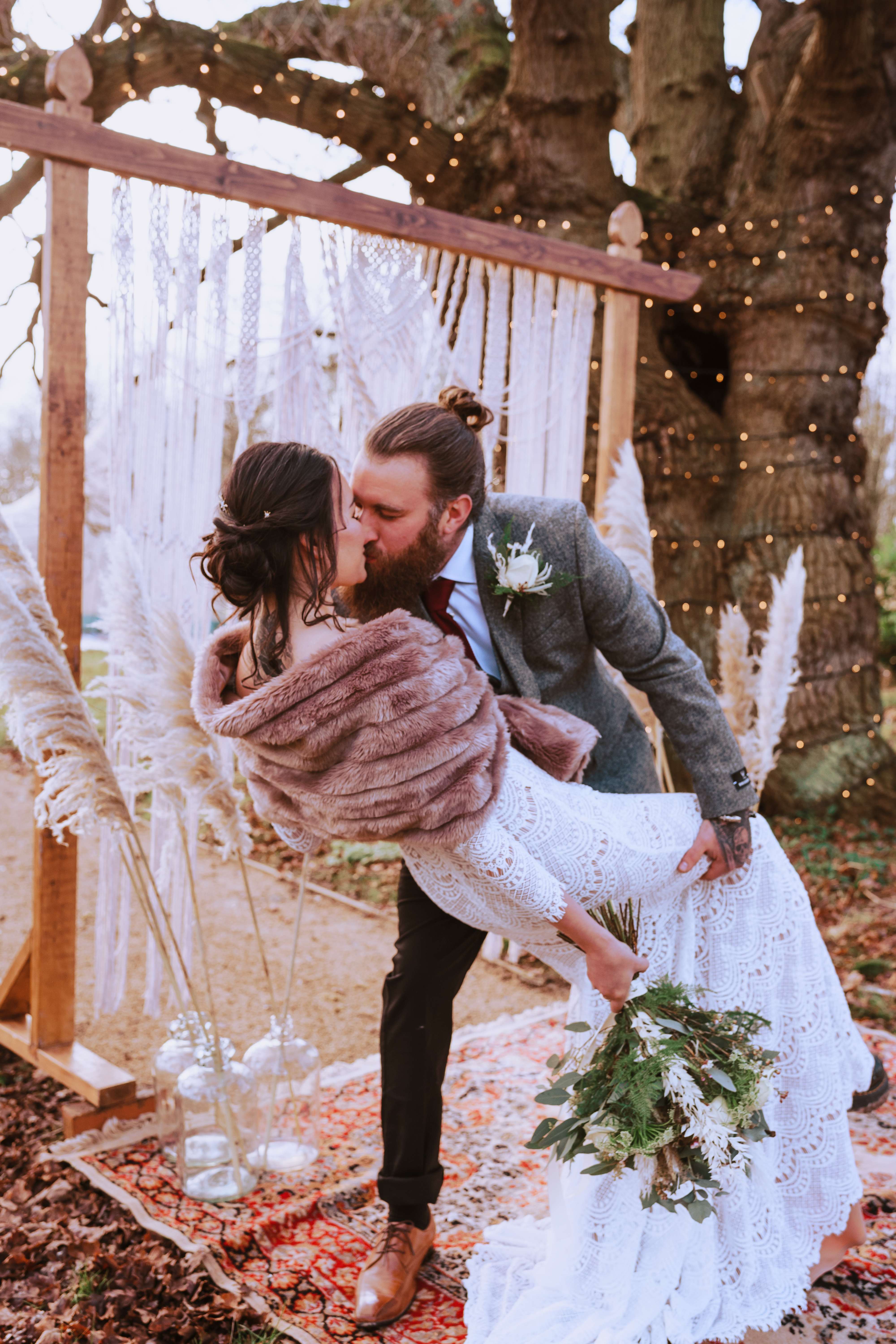 .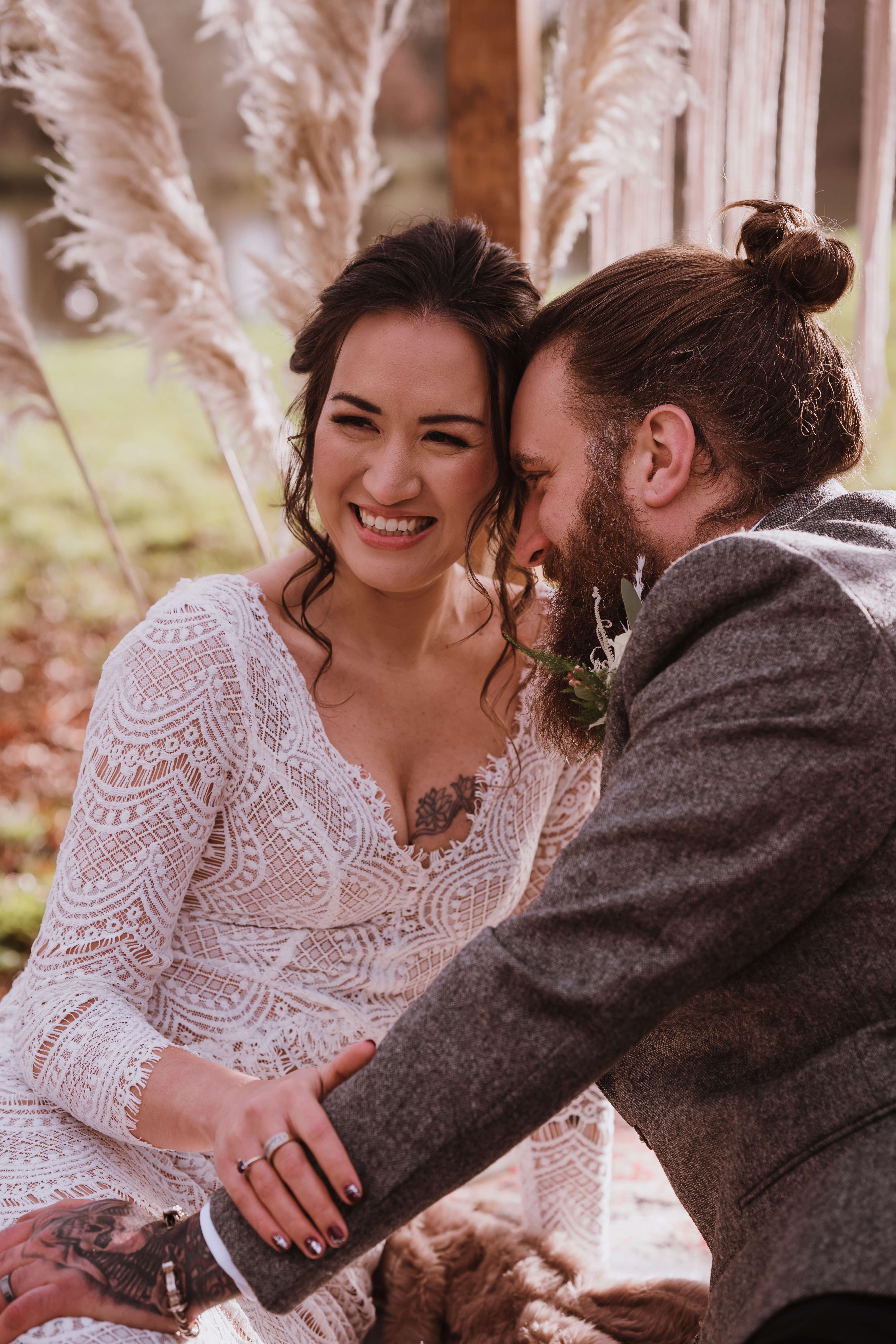 .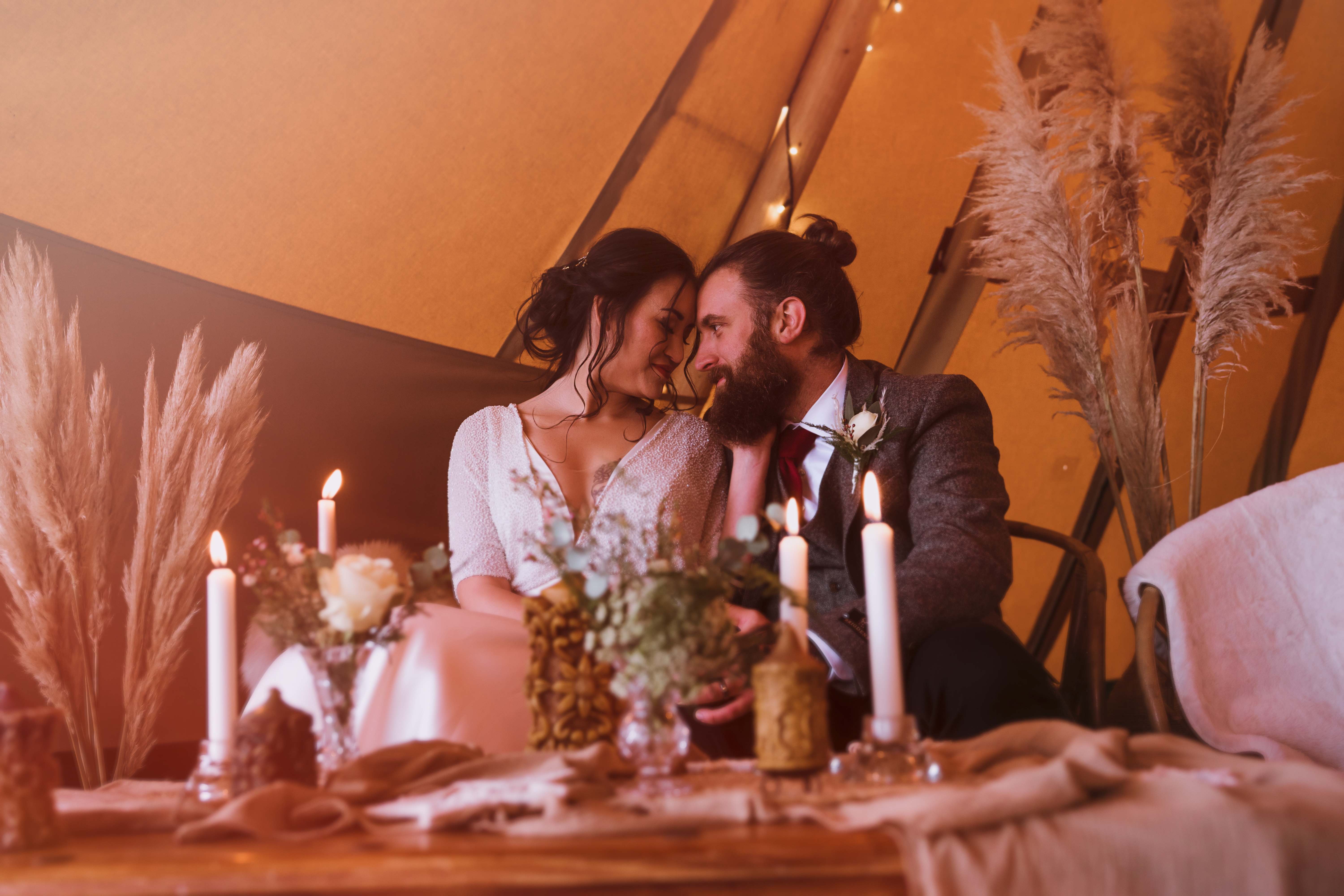 .
Boho Tipi Venue Styling
To make the most of the magical space created by the four-top tipi, zones were created to enable the styling to have maximum impact. A relaxing chill-out lounge area was created, layering furs, and fabrics on the bamboo seating, and creating interest to th eye with the height of the pampas grass dispays, contrasted with the candlelit detailing across the tables. There was an area to showcase the sensational wedding cake, as well as a grand top table softened using drapery, mixed muted toned candles, seagrass placemats, macrame favours, and colourful stationery, which all sat on a stunning persian rug that elevated the warmth tones Bryony used to reflect the cosy, inviting feel.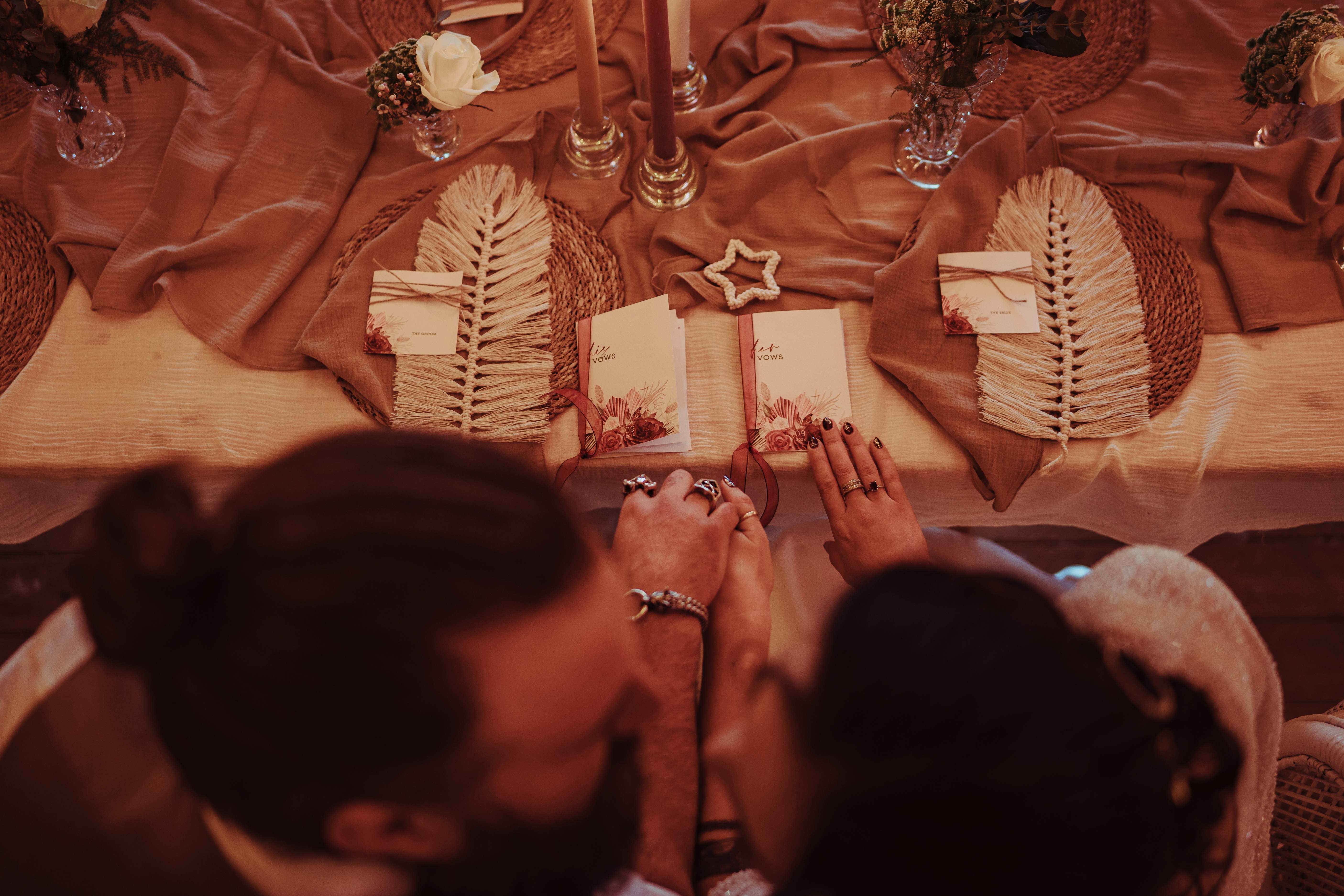 .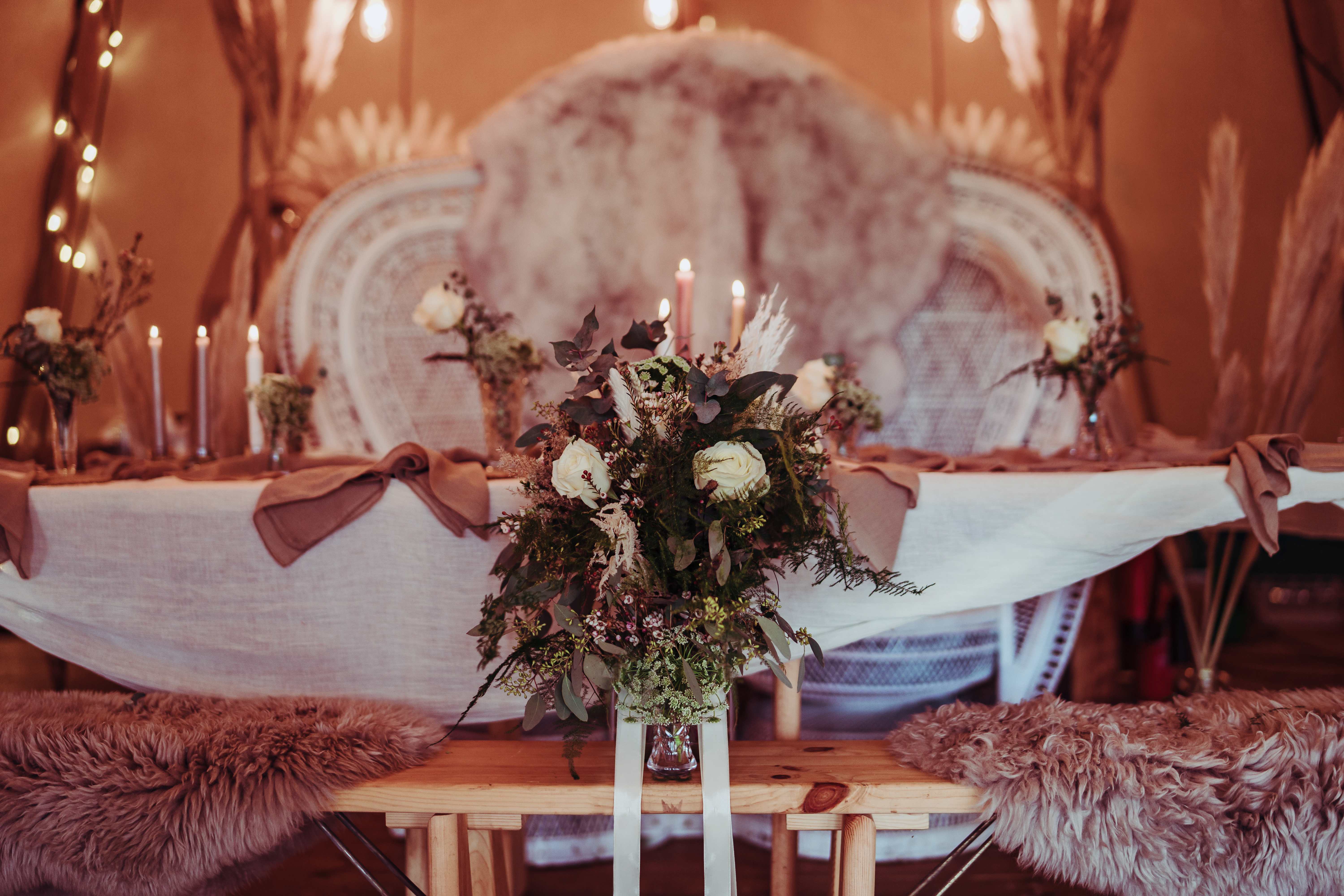 .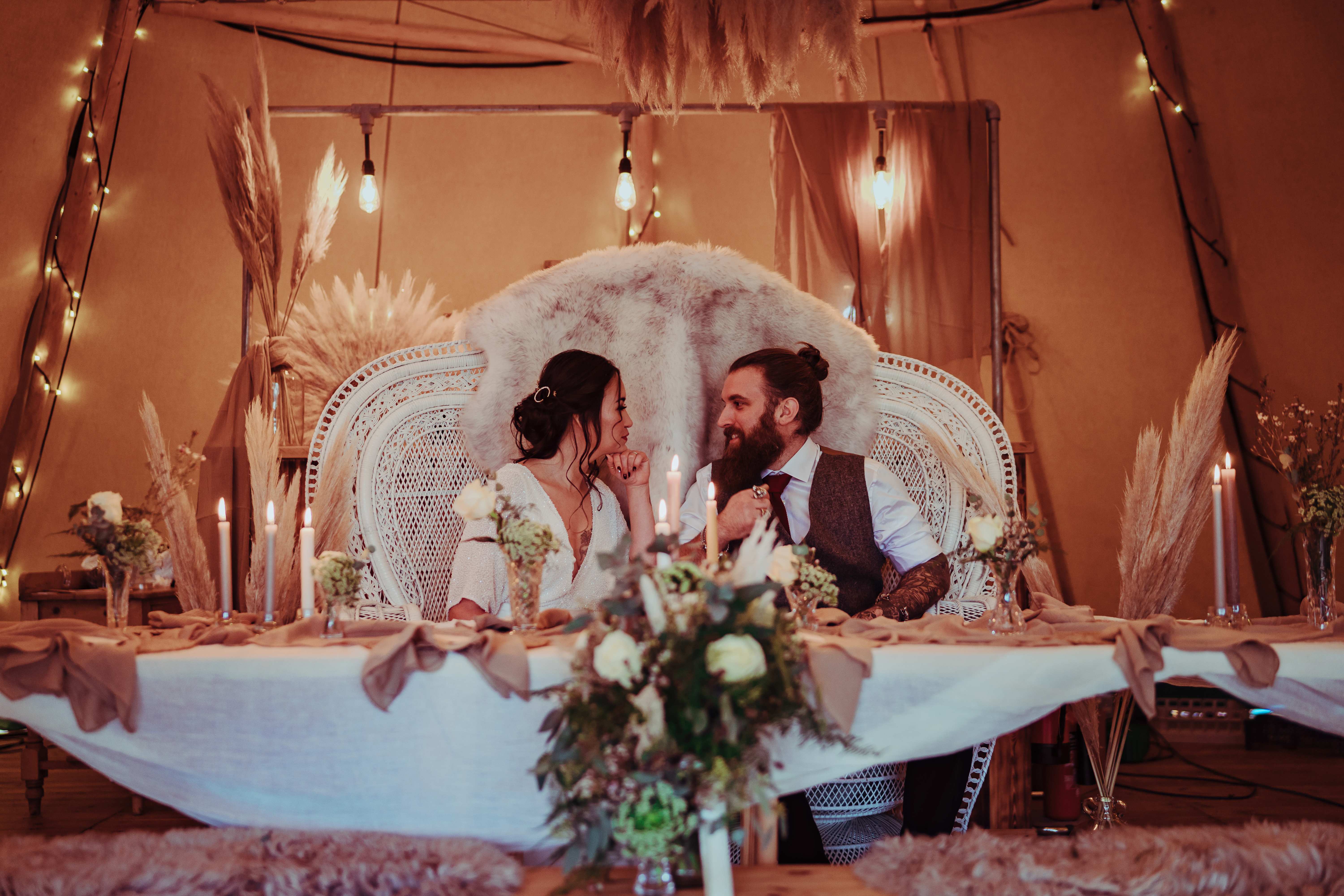 .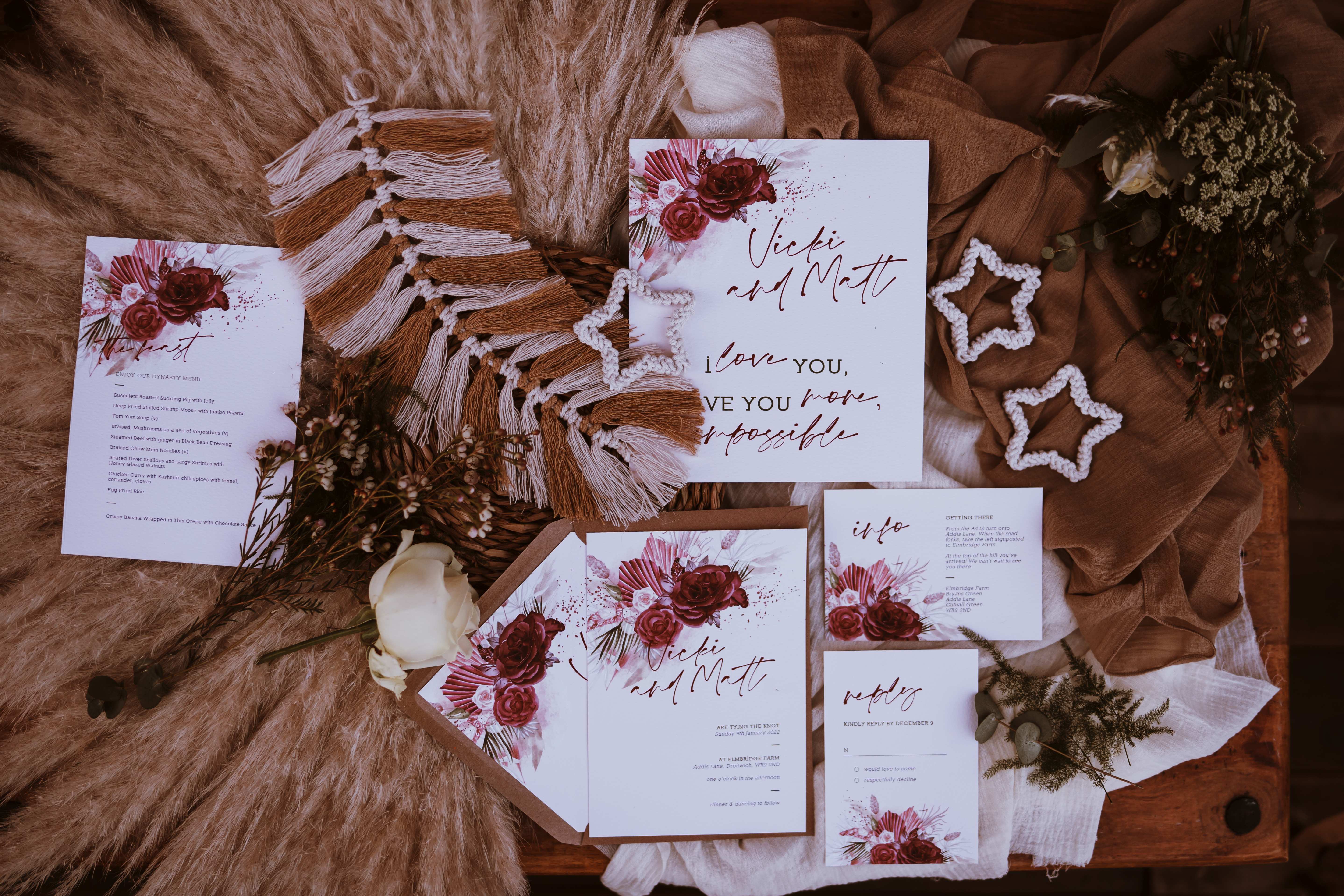 .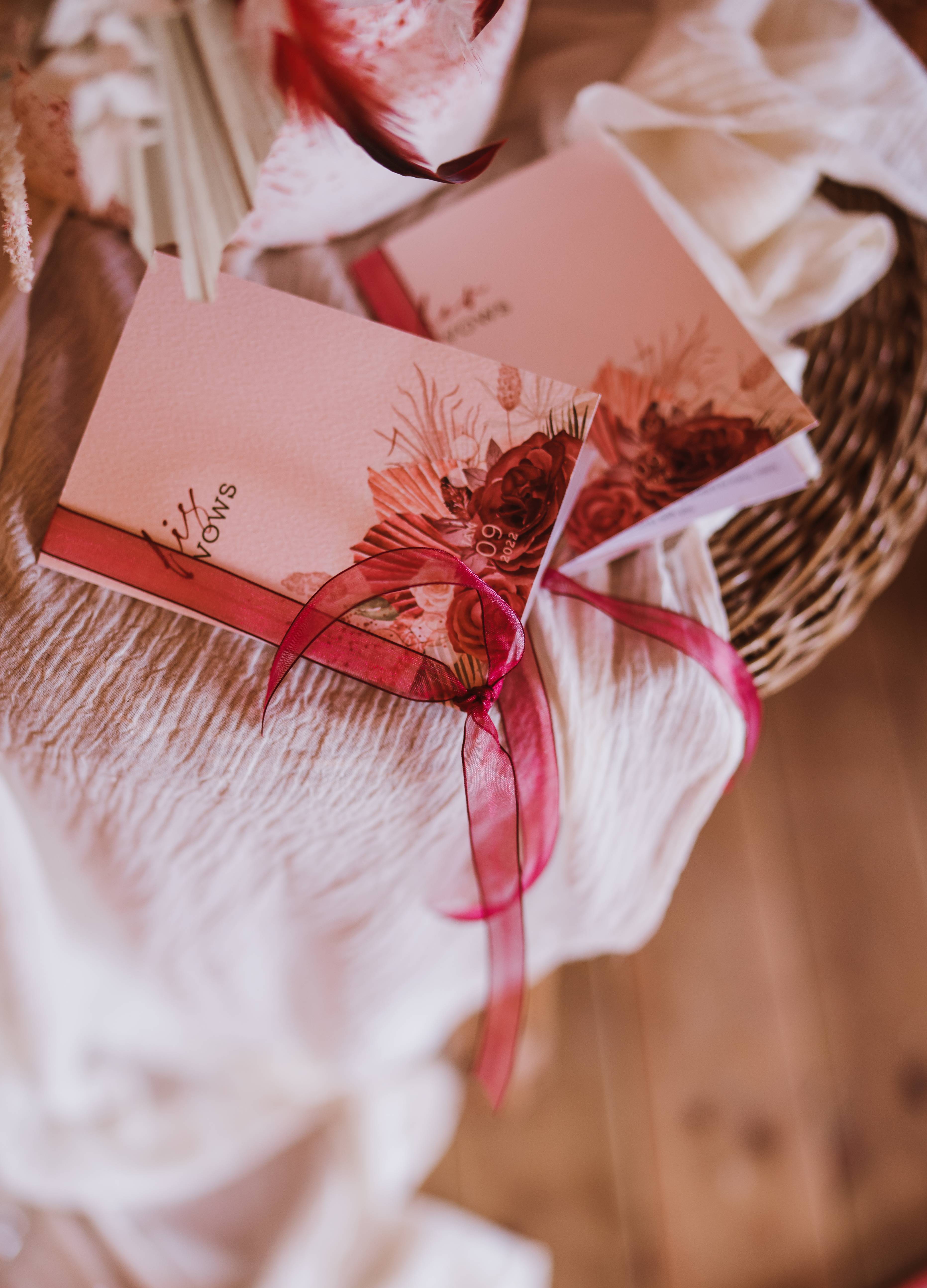 The Boh0 Festival Style Wedding Cake & Details
The bespoke wedding stationery created by the very talented Sally from I Do Invites pulled together the boho inspired botanical references, as well as styling the stationery with 2 luxury fonts all in the hues of black cherry, contrasted against the crisp white background, gorgeous!!
The wedding cake created an eye-catching centre piece that brought together all the elements of the editorial. Our fabulous approved supplier Hannah from Botanical Cakes, used a variety of dimensions for her cake tiers to add depth and interest to the cake shape, and used dried florals and a tambourine to epitimise the free-spirited, and fun feeling she wanted to arose from her work.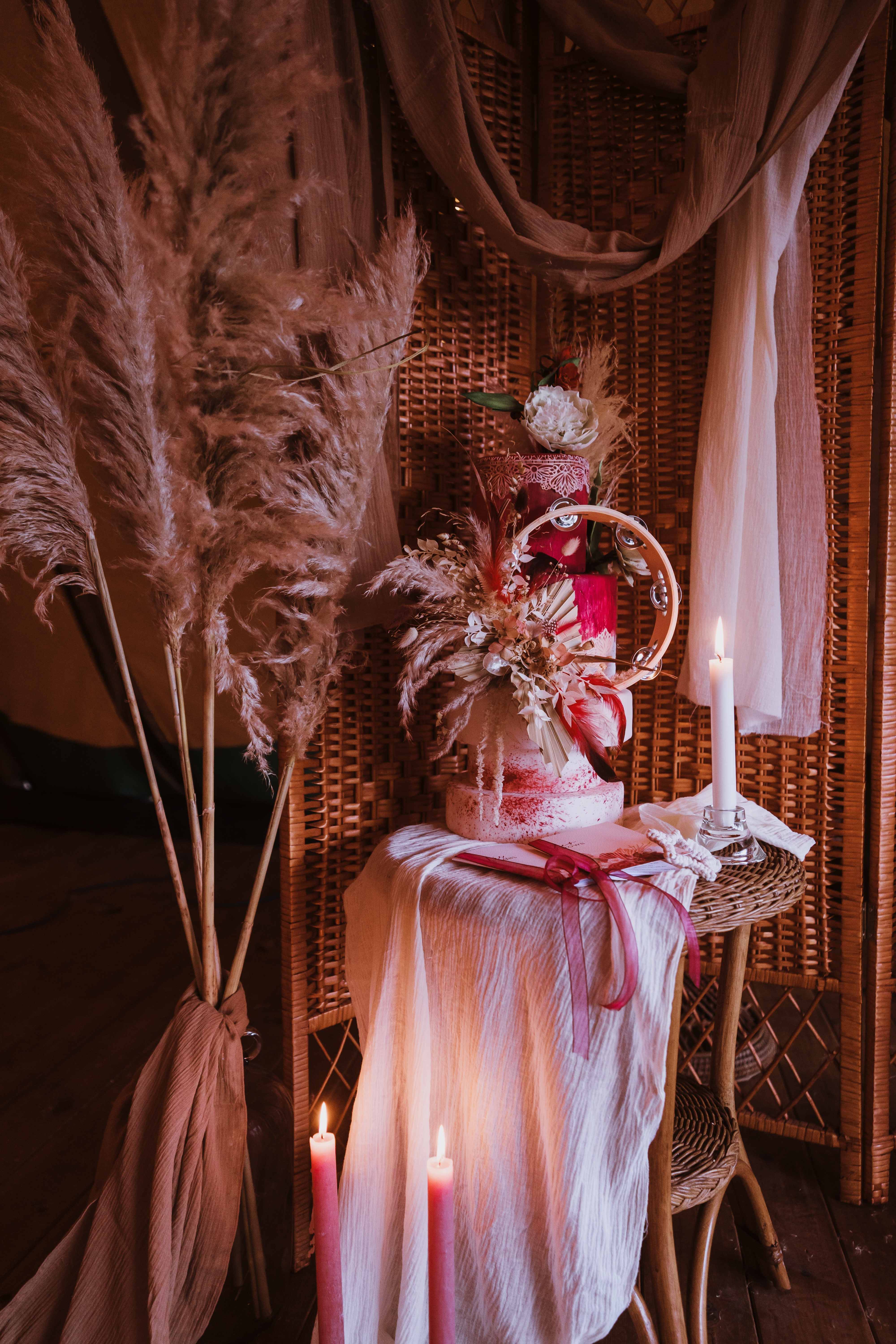 .
.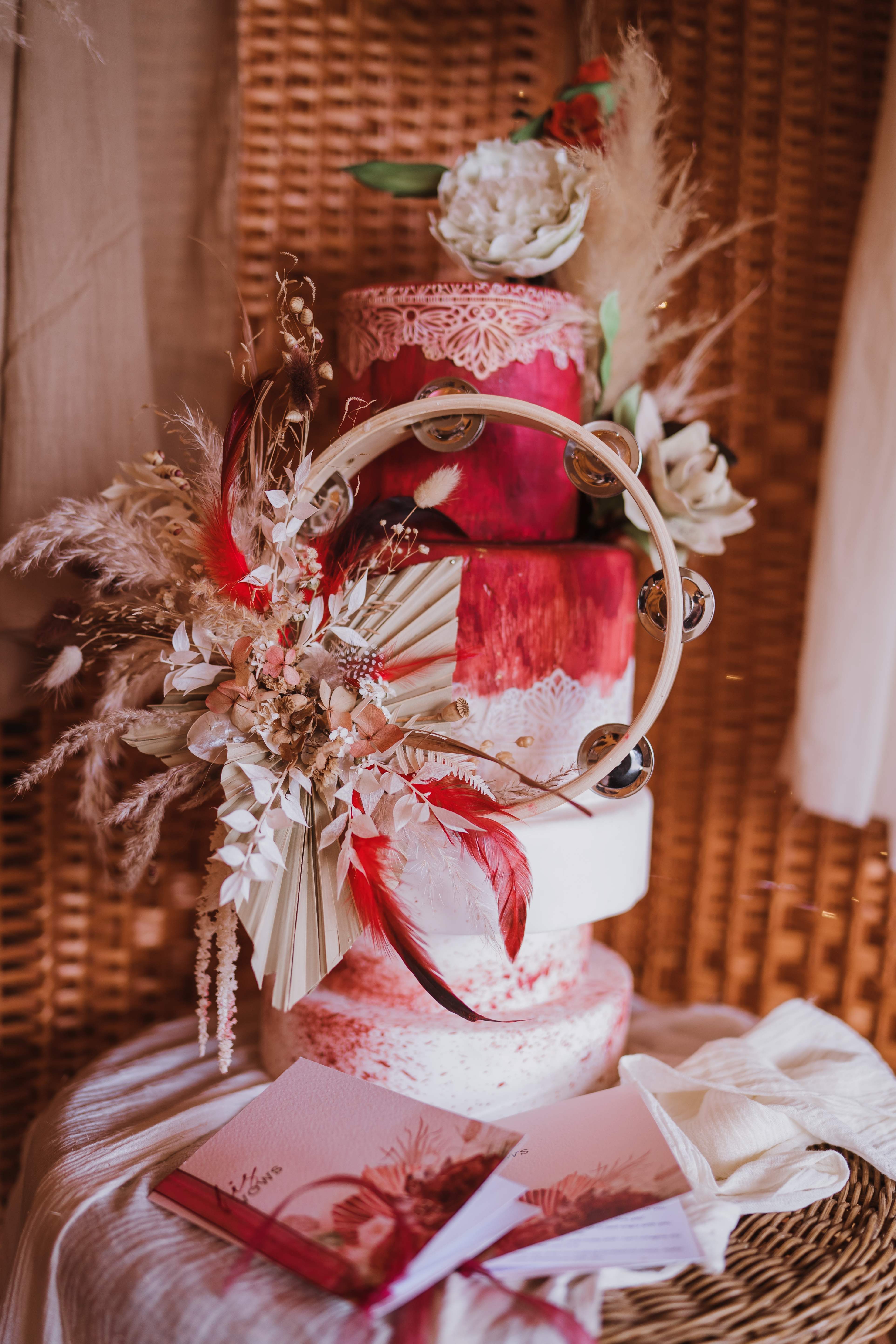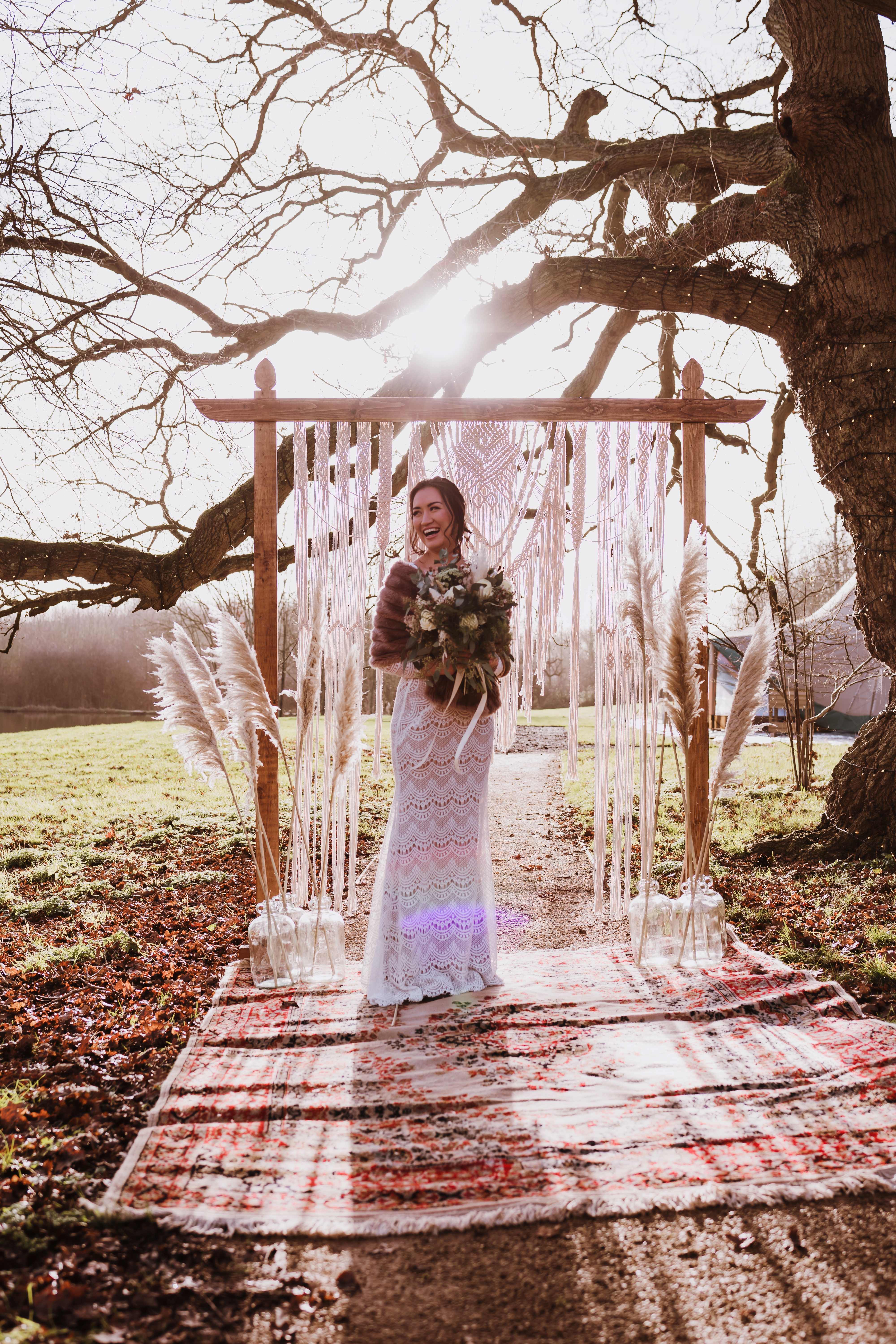 .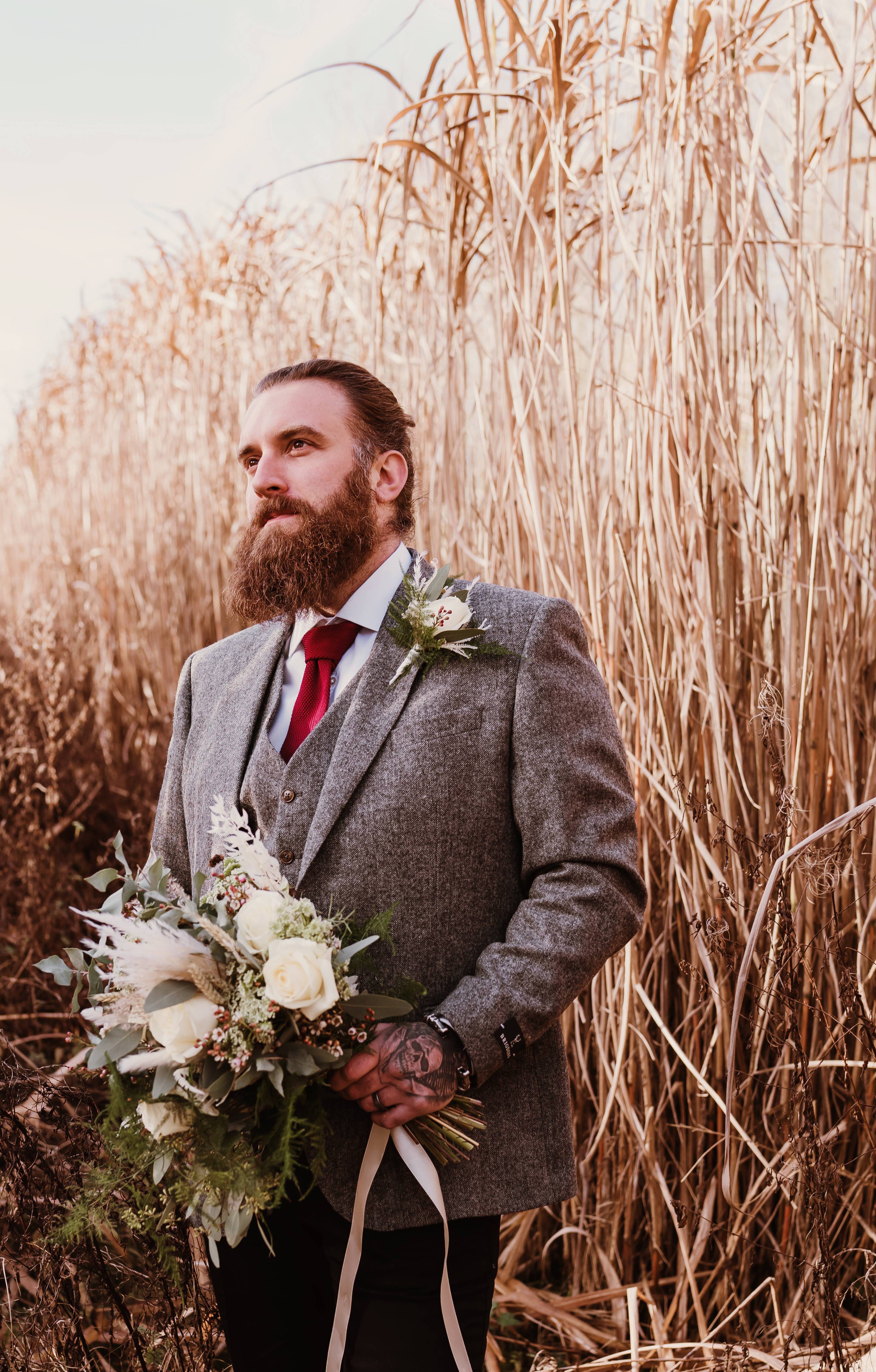 Boho Wedding Florals, Dried Flowers & Pampas Grass
The bridal bouquet was bountiful with greenery and texture was added through numerous varieties of light cream florals. Minature bud vases were used throughout the indoor table styling to add to add an extra layer of colour and texture to the overall look, all created by the fabulous Becki from Ashton Flowers. Bryony from Bobbi Wren Events created a sensational suspended pampas chandelier that hung from one of the tipi top hats. We are also LOVING the pampas fans also displayed within this shoot, all adding sumptuous texture, eye-catching intrigue and the feeling of cosiness to this winter tipi display.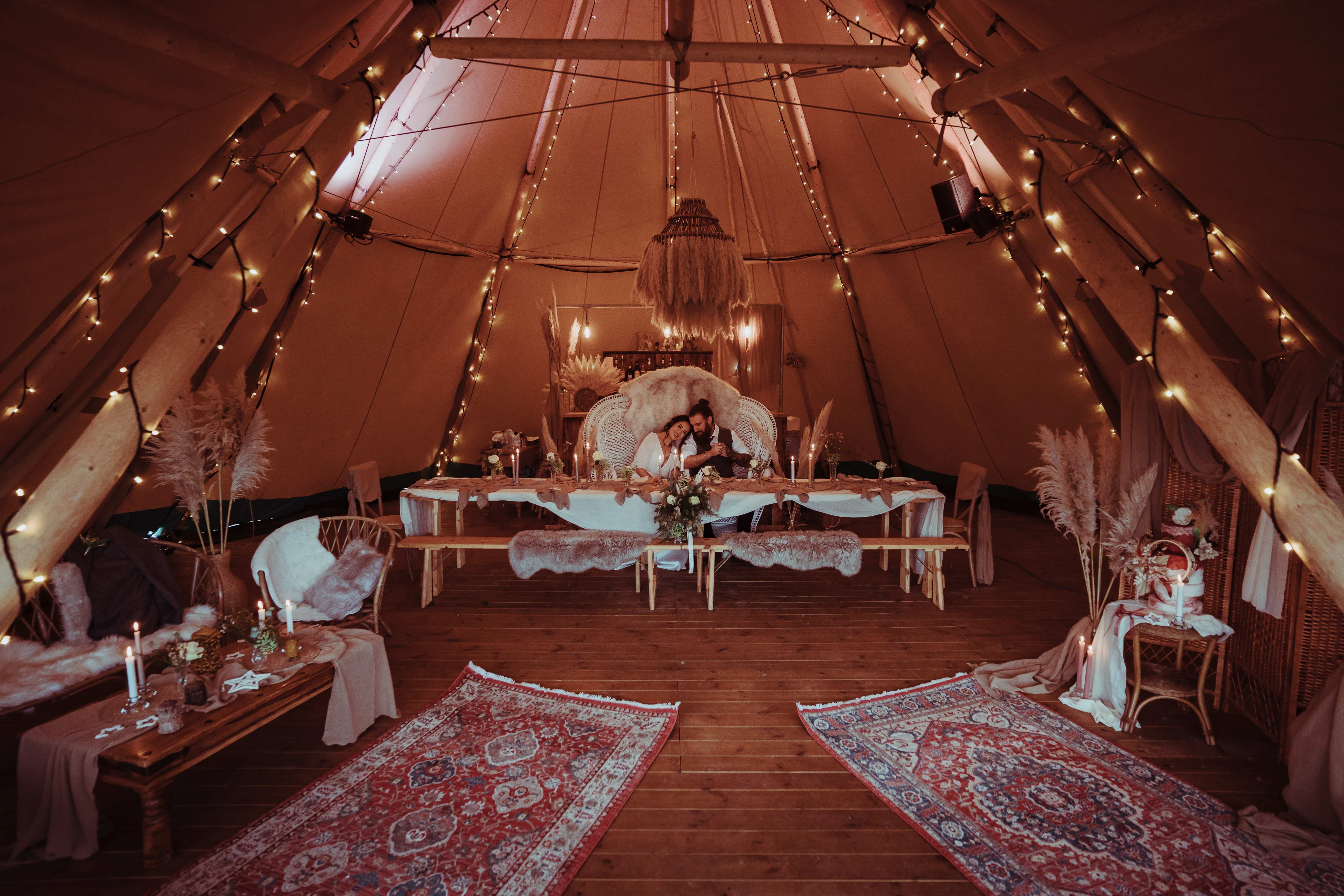 .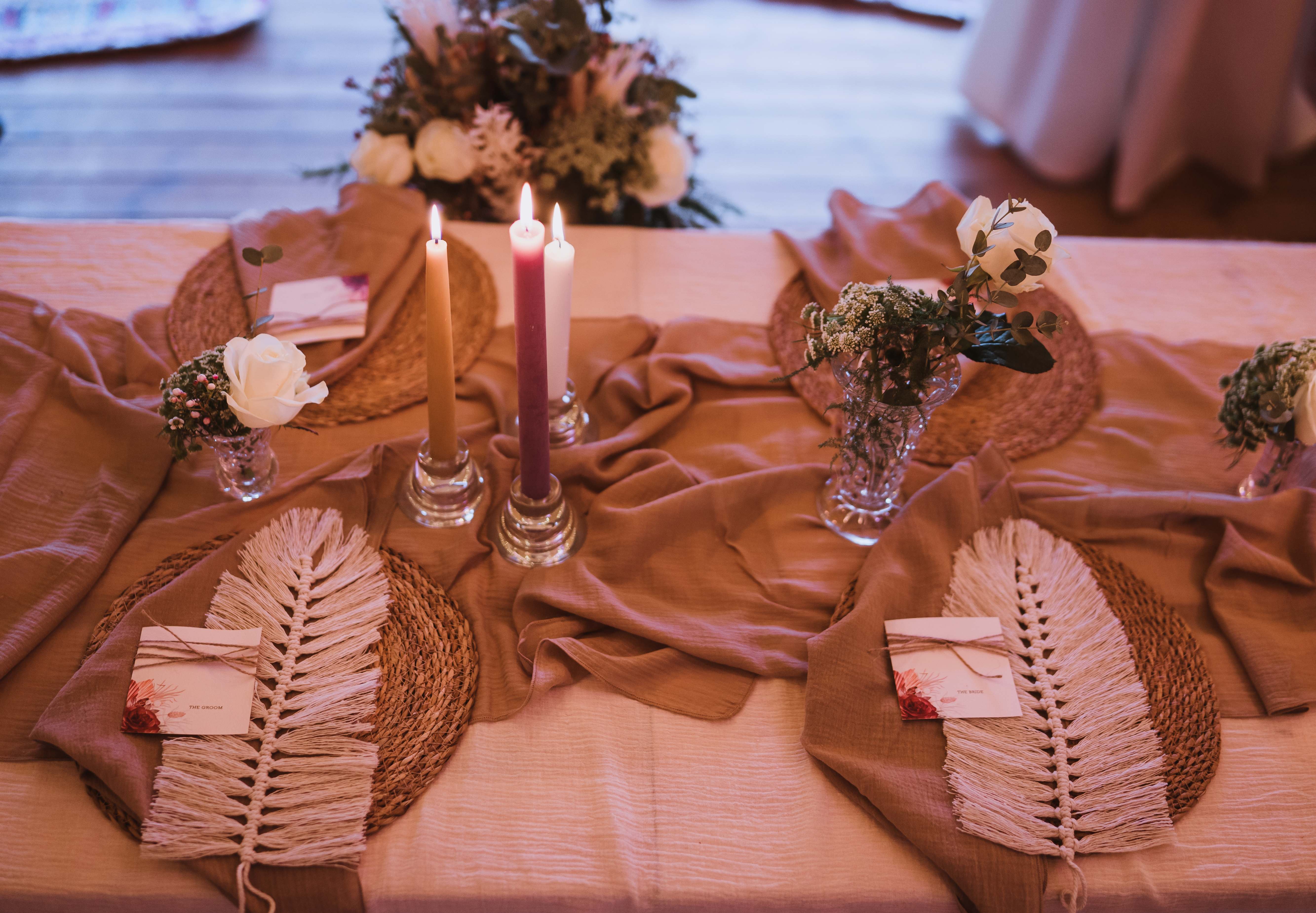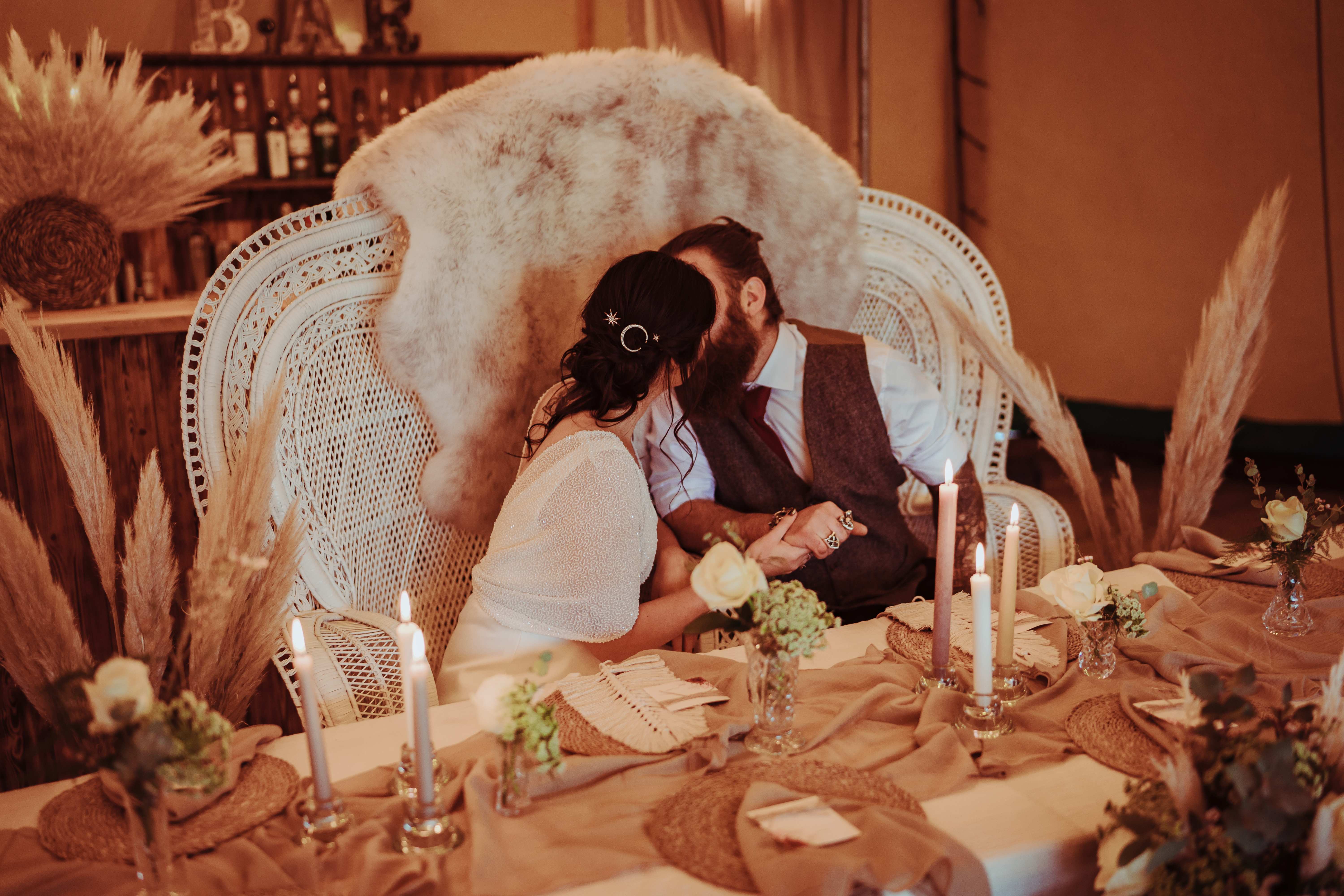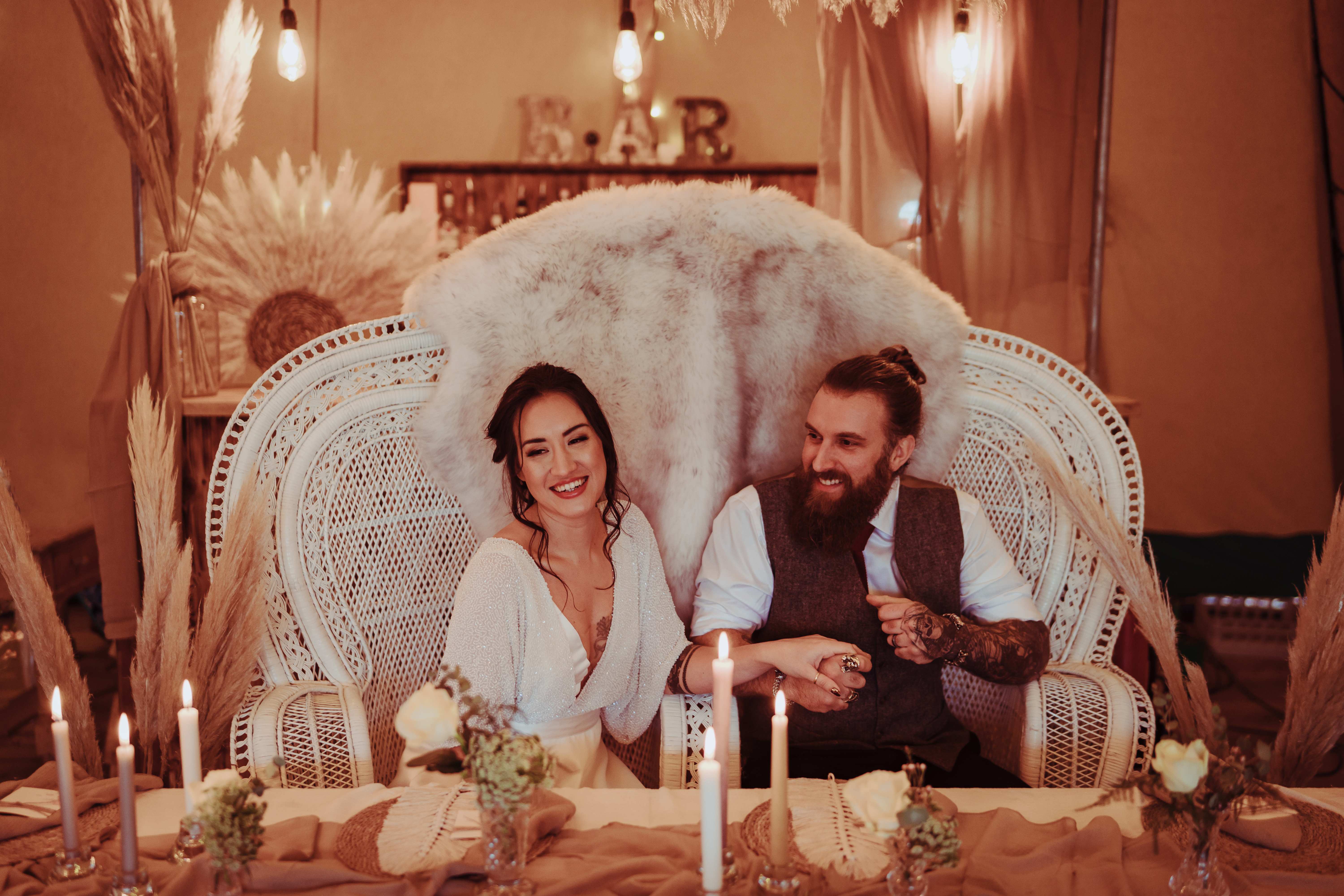 .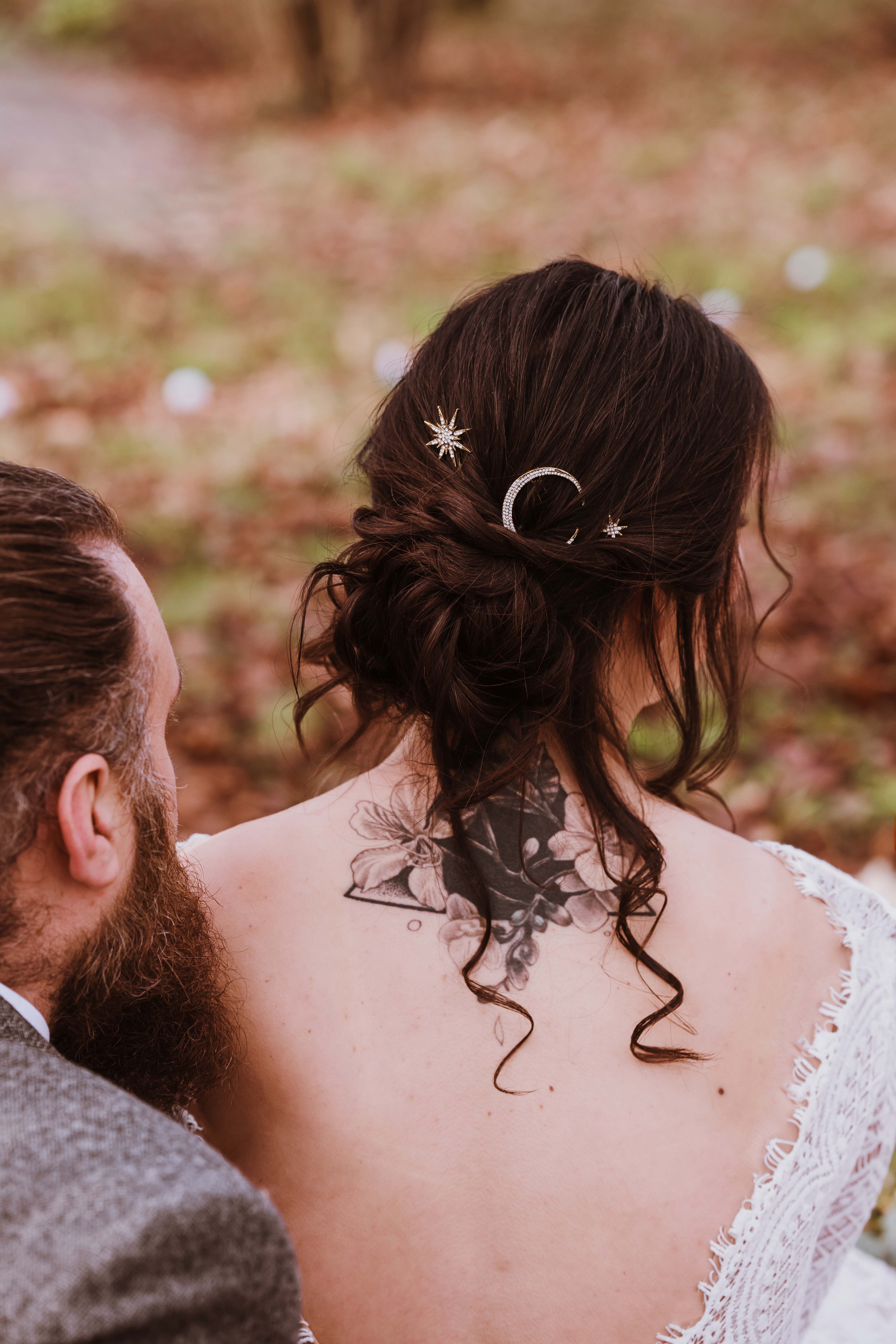 The Bohemian Bridal Look
Vicki wore a stunning figure hugging lace dress by Haarlem Bridal and fur shrug for the ceremony, a draping two piece for the wedding breakfast set up and an embellished jacket overlaid for the finale photo's.
The bridal hair was styled by Claudia Goodwin Hair with moon and star hair pins which shone against Vicki's gorgeous dark locks, her hair was curled loosely and pinned at the back. Natalie Jane MUA gave Vicki a delicate pink toned makeup look for the ceremony, followed by a darker lip in the evening to suit her complexion.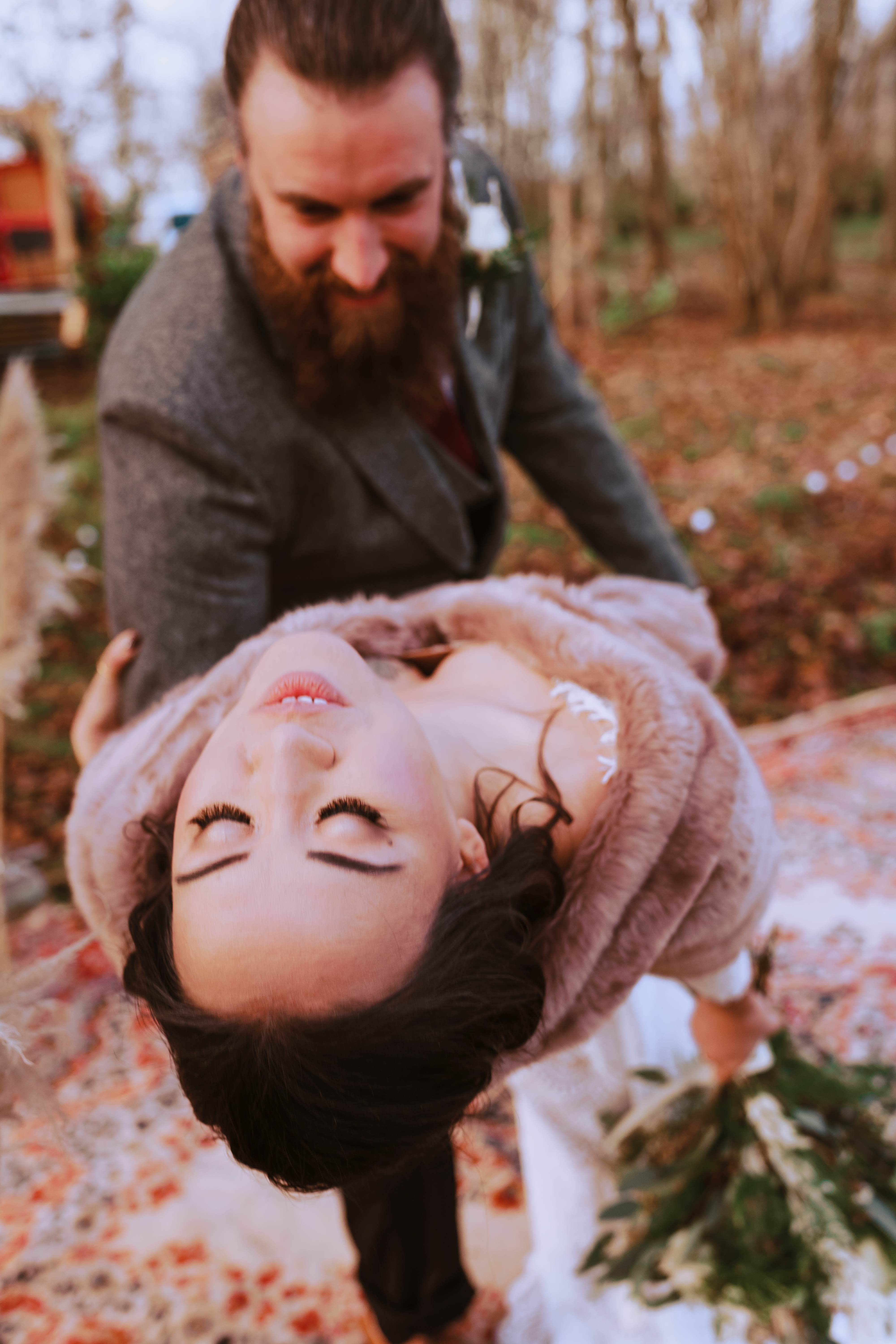 .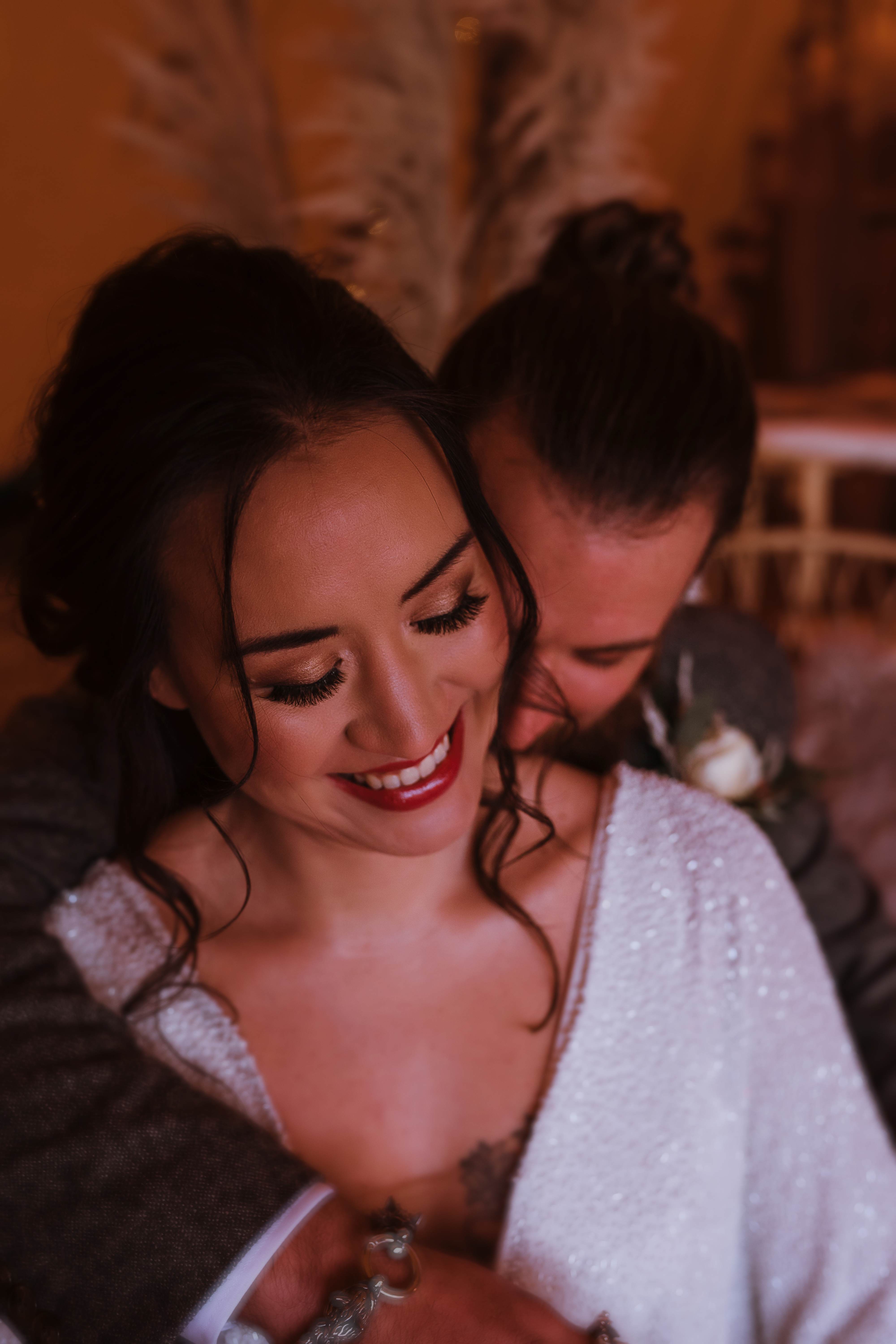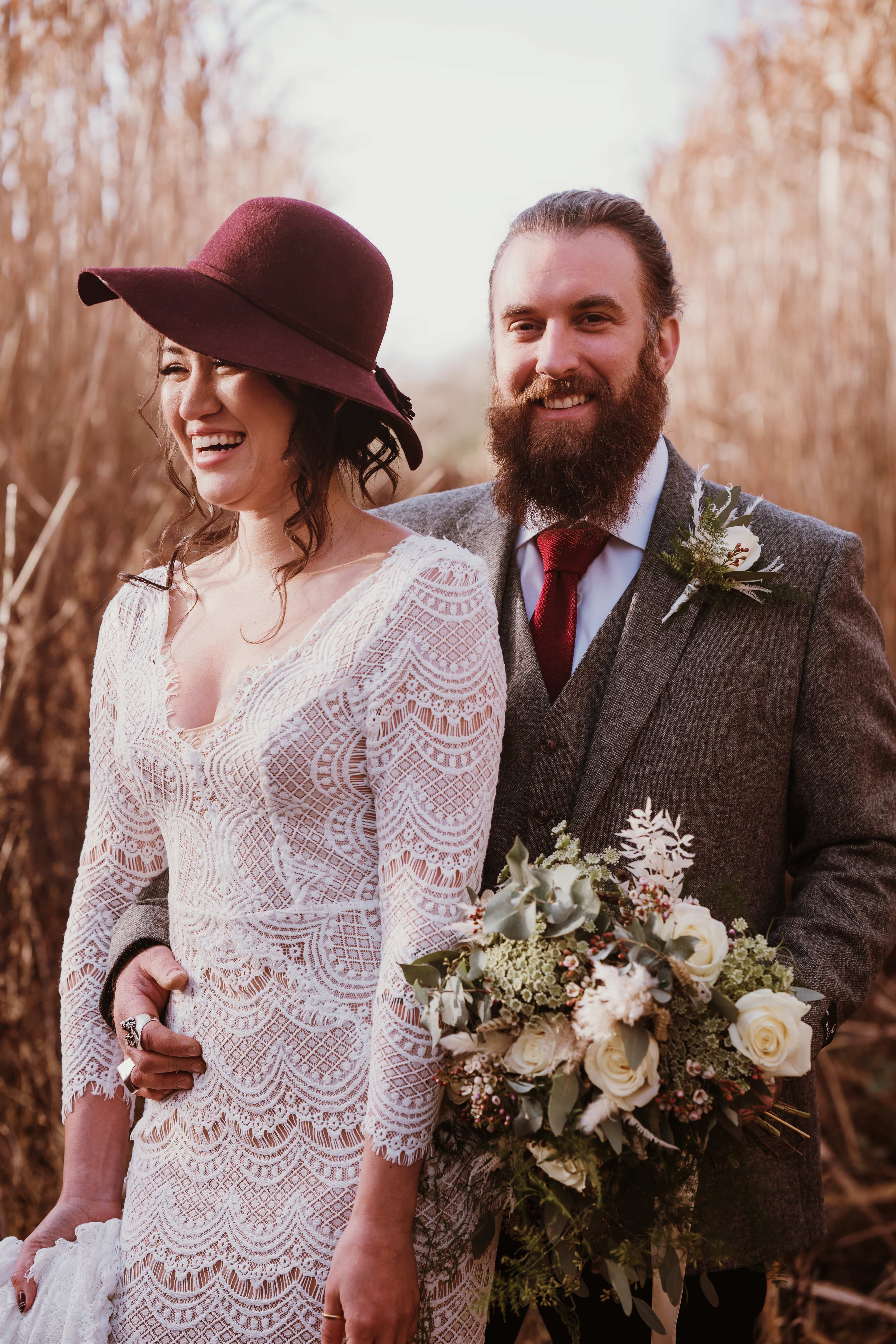 .
The Groom
Matt wore a grey tweed suit waistcoat and jacket from Brigdens Of Derby & Burton with black chino's and a burgundy kitted tie for a colour pop to match the bride's hat for part of the photo's, the grooms look was completed with a rugged hair bun.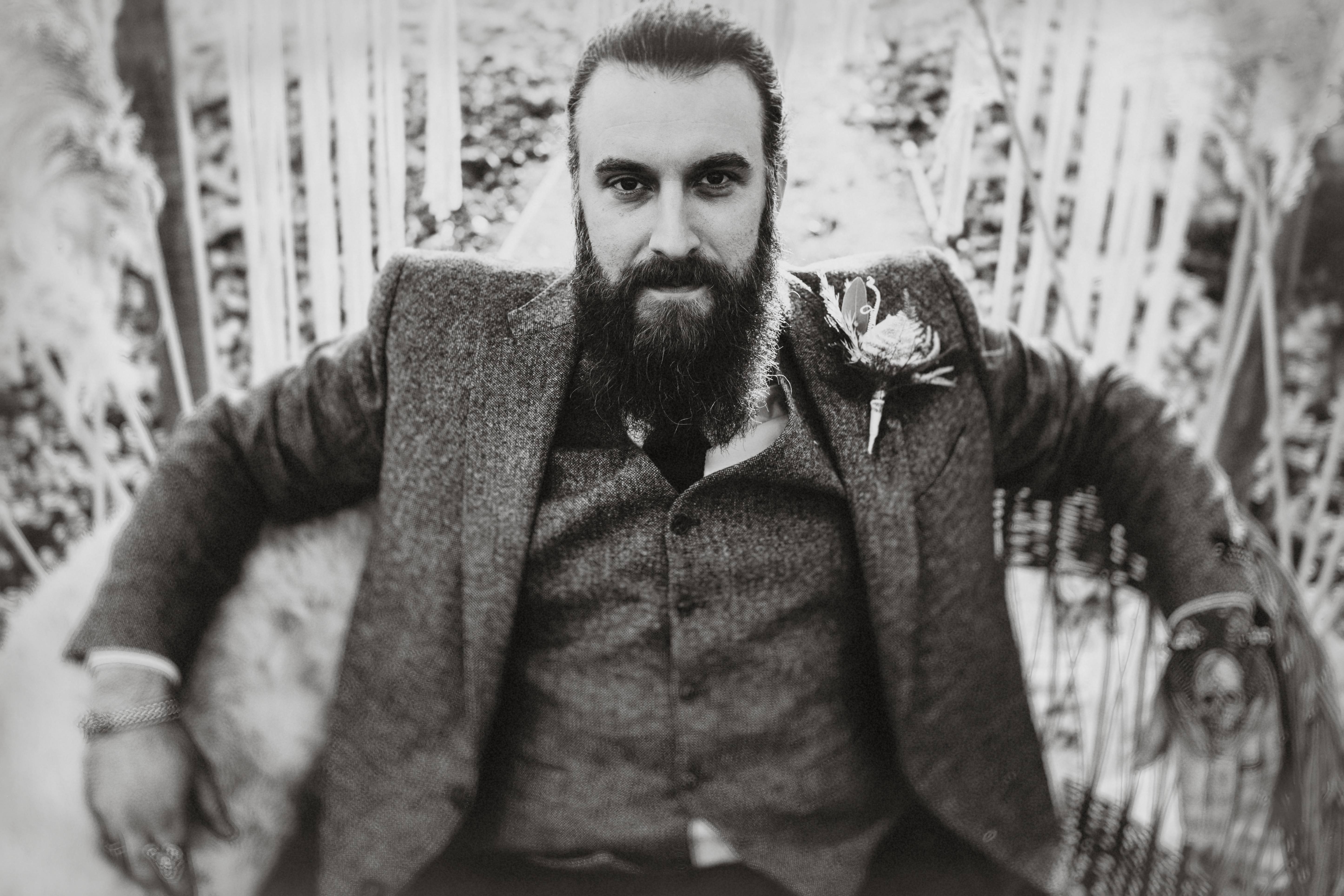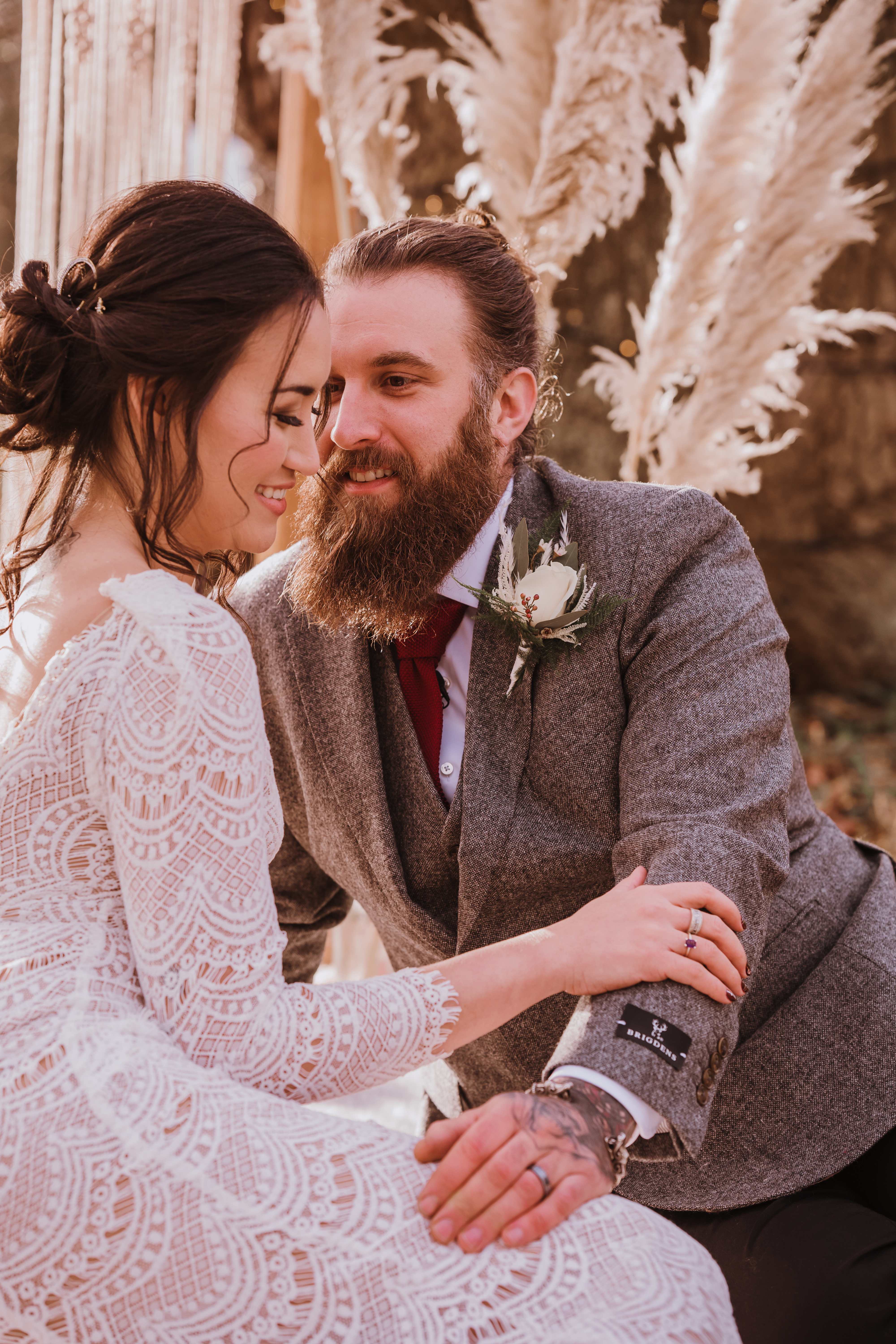 .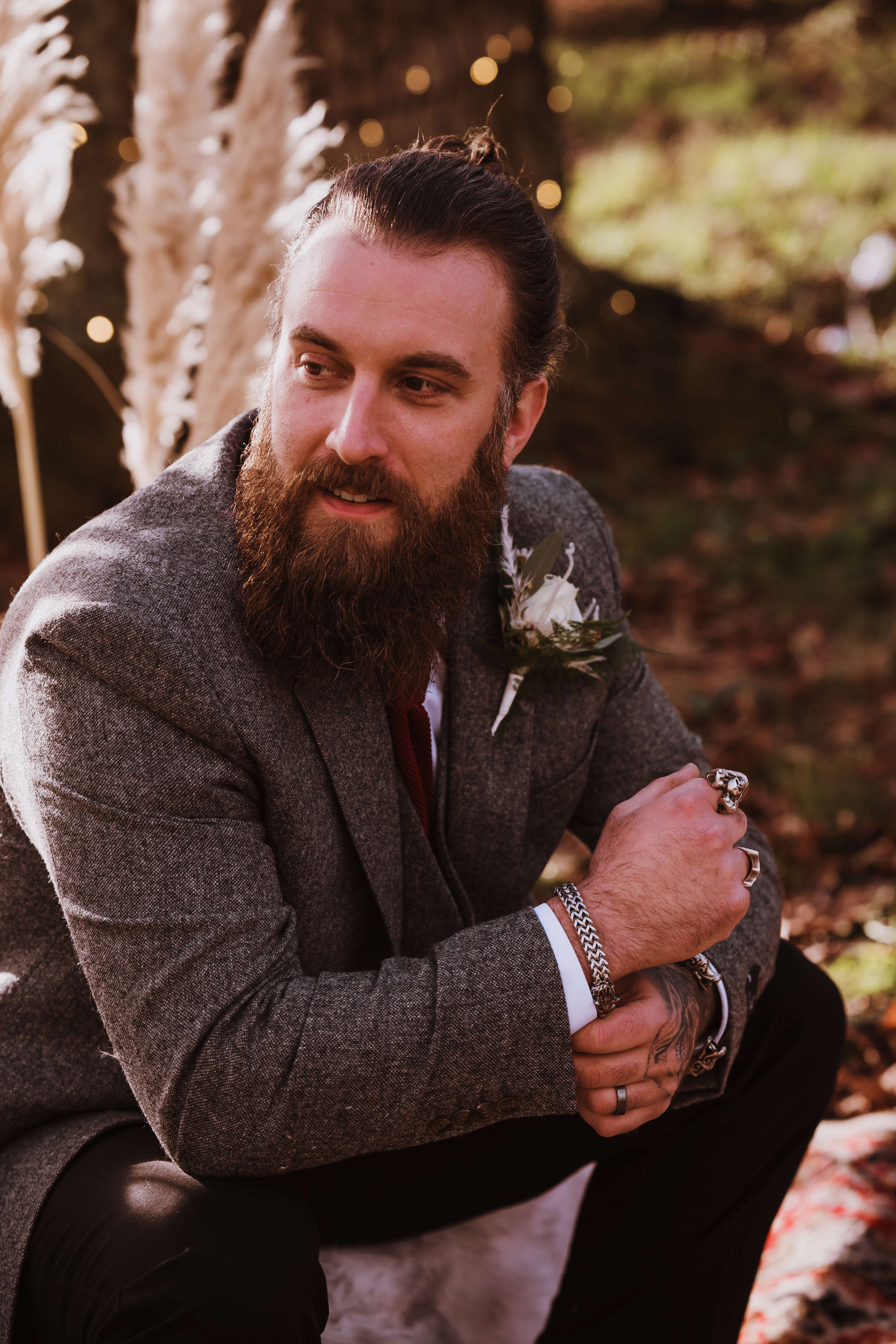 .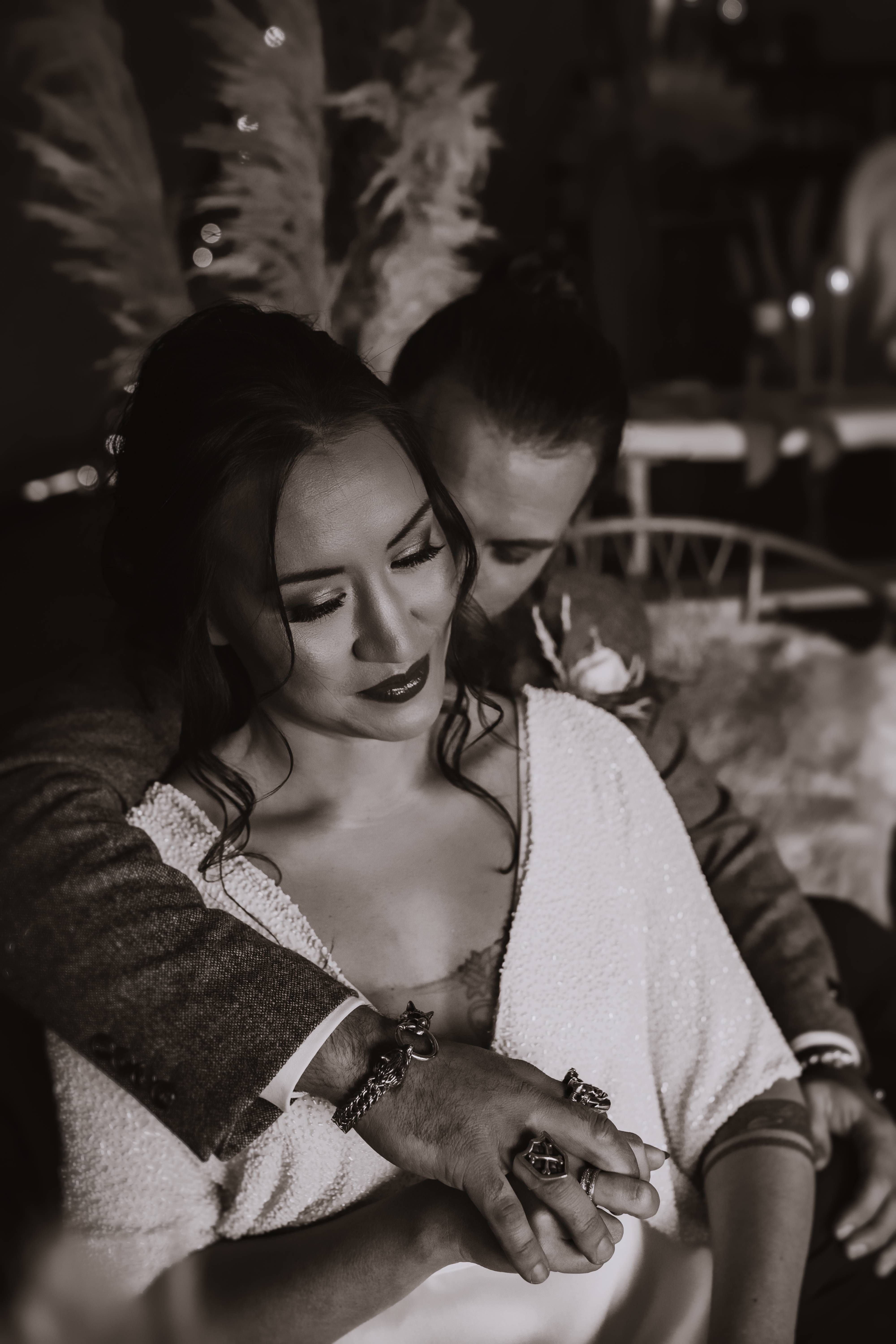 Photography & Videography
Both photographers Nettlespie Photography & What Mon Loves created the most stunning imagery, full of love and emotion, and were able to humbly direct the couple to capture them so naturally. Videographer Rob Campbell Weddings created a magical film of Vicki & Matts vow renewal that encapsulated the couples fabulous personalities and words of adoration, as well as highlighting all the stunning details of the day.
.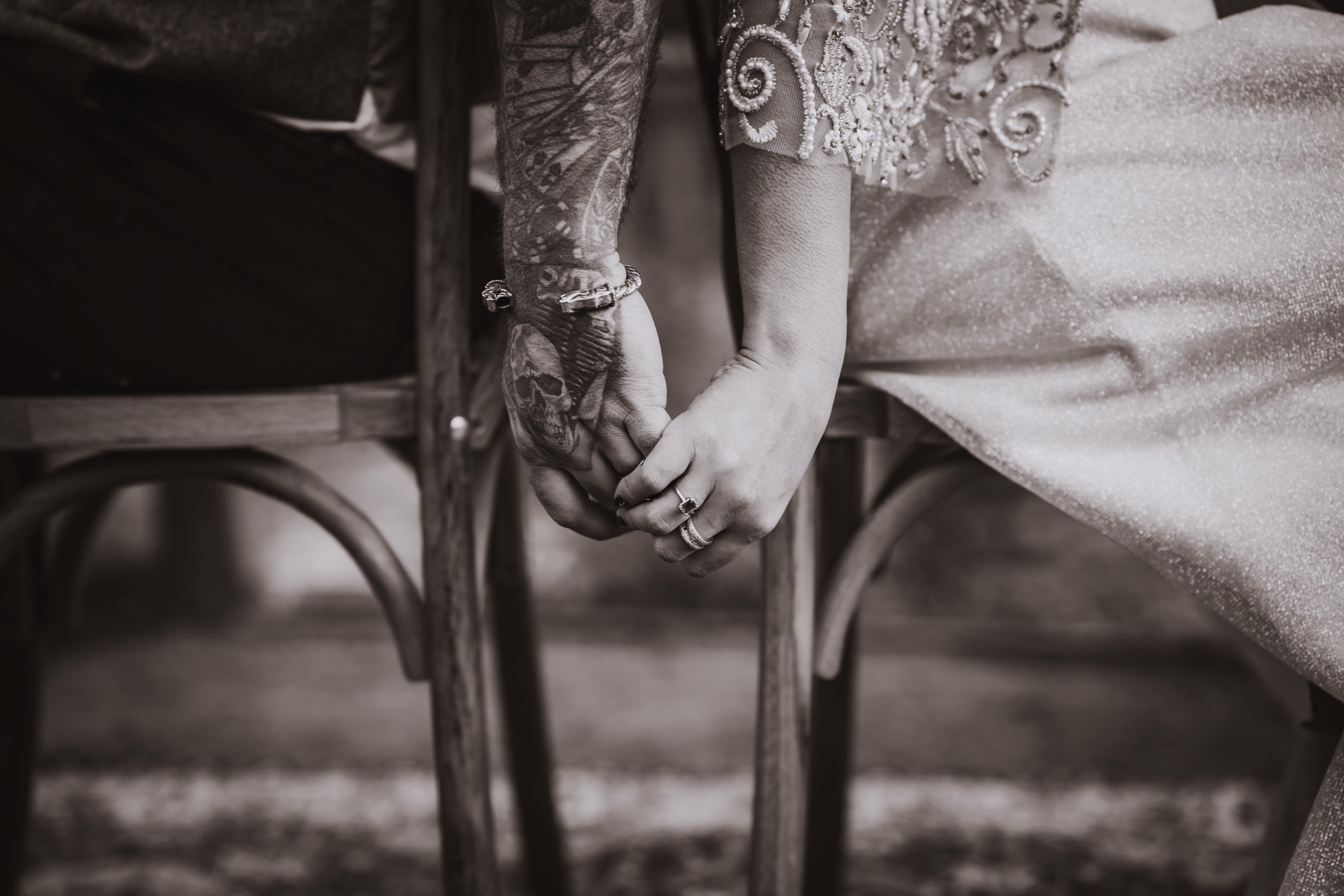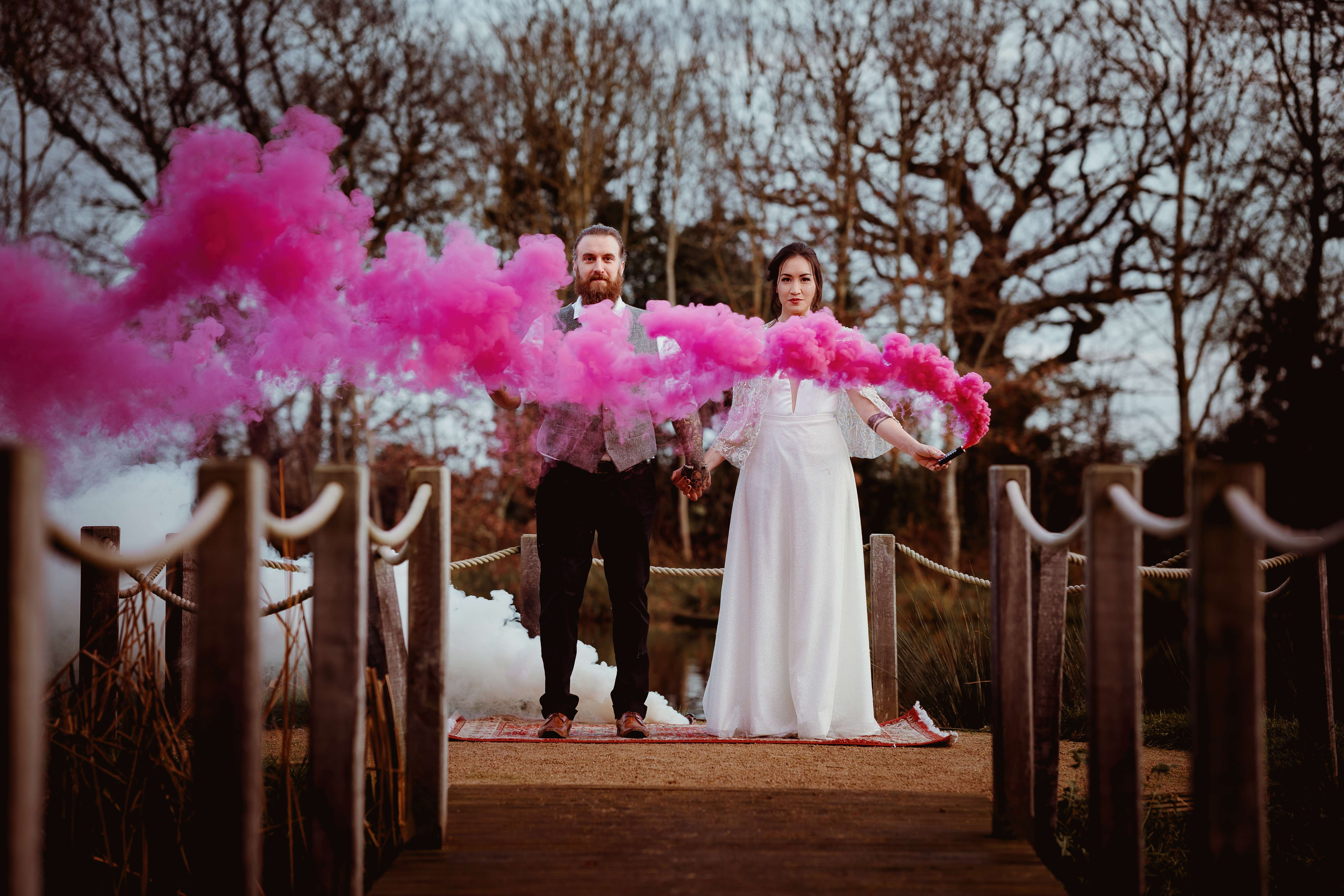 .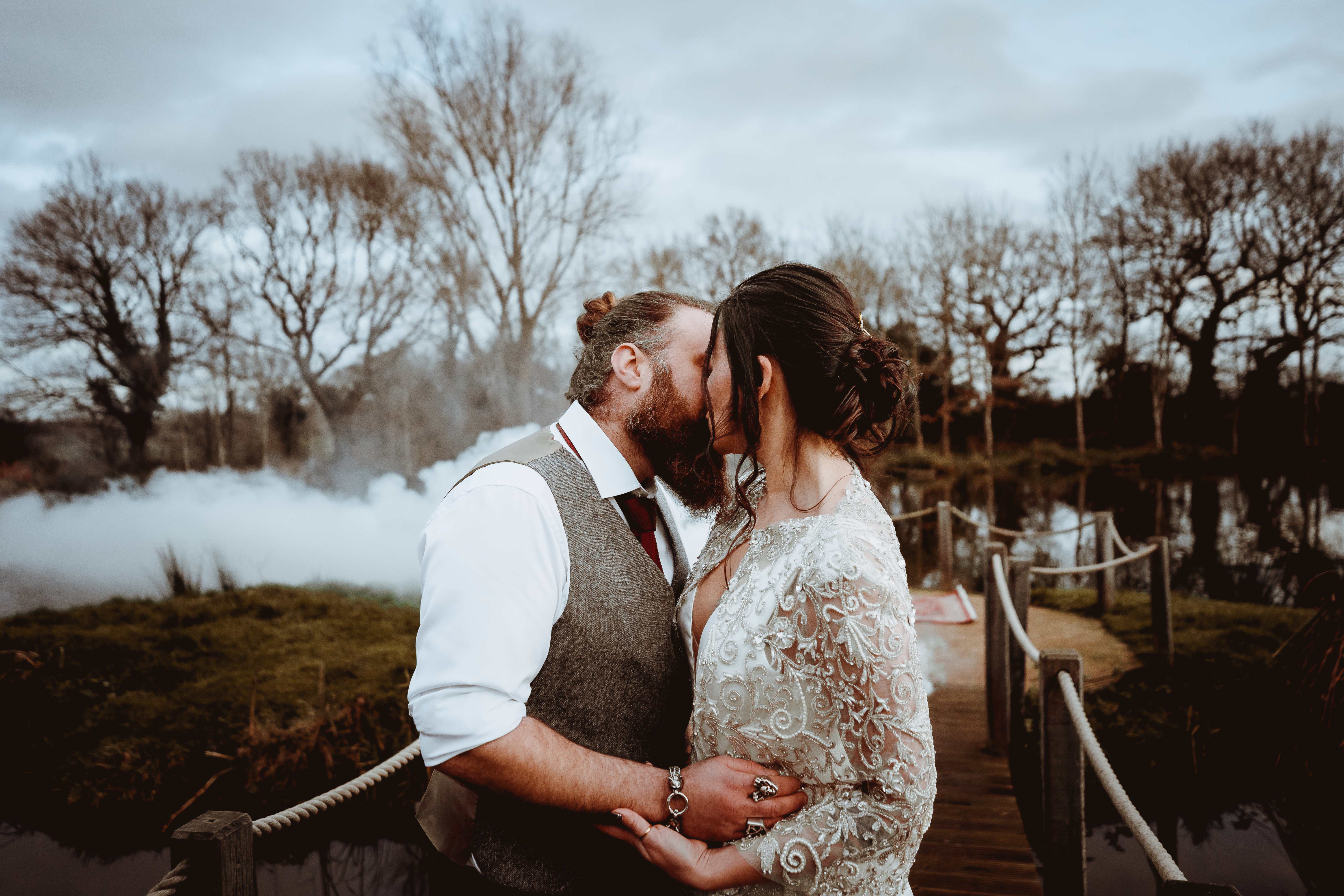 The Models
Vicki and Matt made this shoot super easy and even got to share a cheeky vow renewal after 11 years during the shoot as Sharon had spoken to them before to write their own vows. We LOVE this!!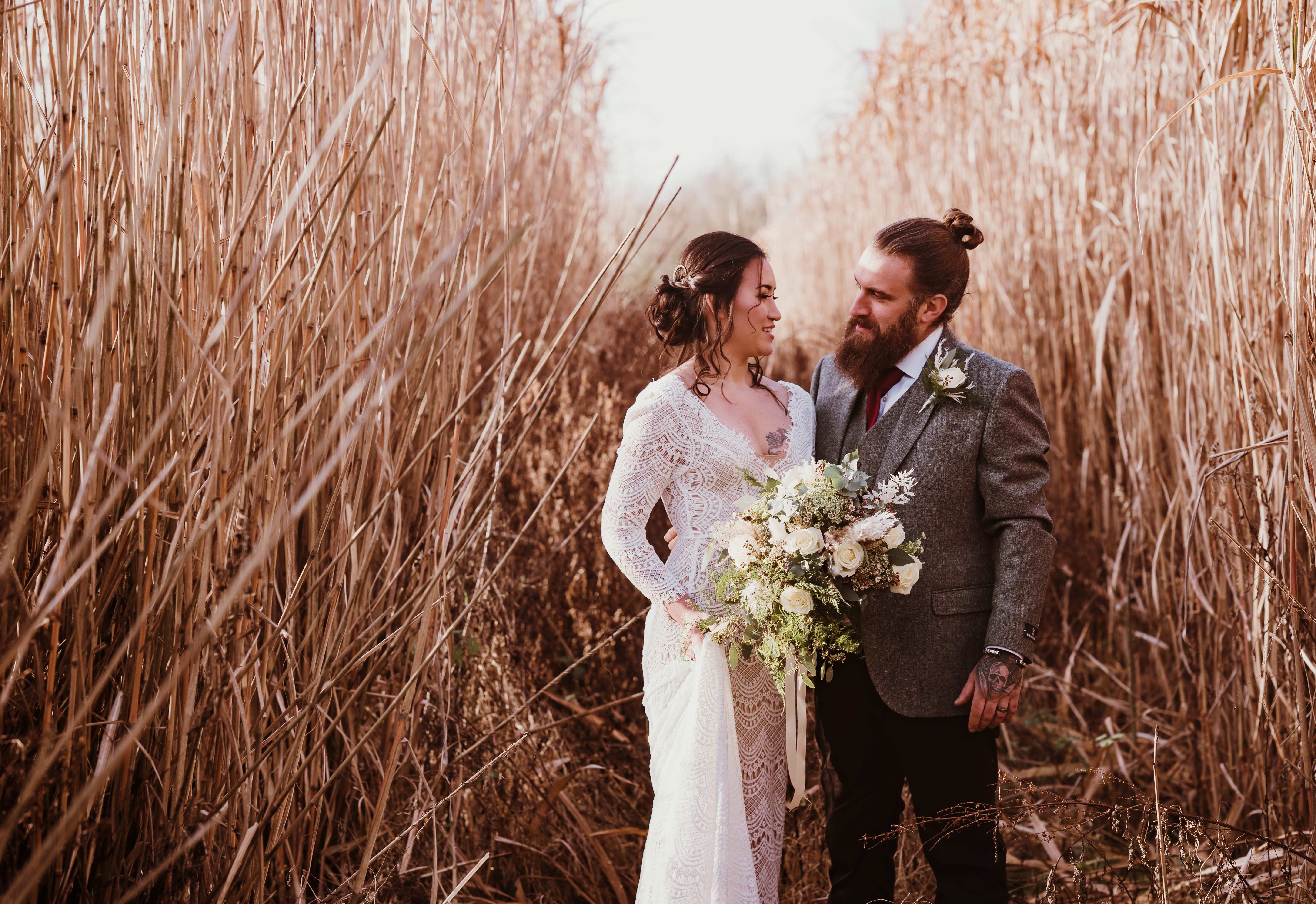 .
If you enjoyed reading this post as much as we enjoyed writing it, then please share some love in the comments below. Perhaps you are interested in some more winter boho magic, if so you can check out our this Boho inspired Intimate Winter Barn Wedding. Enjoy!
Don't forget to save your favourite images to your Pinterest wedding board for inspiration.
Lot's of Love,
Jess
Jessica Tetstall - VA to The Boho Bride Guide
The team of suppliers that made this magic happen:
Bobbi Wren Events - Concept, Planning & Styling
Elmbridge Farm - Outdoor & Tipi Wedding Venue
Ashton Flowers - Florals
Haarlem Bridal - Bridal Dress
Nettlespie Photography - Shoot Photographer
What Mon Loves - Photographer 2
Rob Campbell Weddings - Videographer
I do Invites - Stationery
Botanical Cakes - Wedding Cake
Natalie Jane MUA - Make-up
Claudia Goodwin Hair - Bridal Hairstylist
Sharon Gordon Celebrant - Celebrant
Vicki & Matt Green - Bride & Groom
Brigdens Of Derby & Burton - Grooms Suit
Modern Macrame by Sarah Louise - Macrame Favours
ON 31st January 2022 / BY Jessica Tetstall
Leave A Comment